Ethiopia garners 9 medals in Helsinki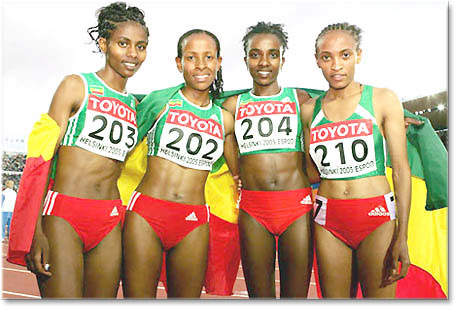 The 10th International Association of Athletics Federation (IAAF) World Championship in Helsinki has come to an end with a record nine medals for Ethiopian athletes, the country's biggest ever in its 22-year participation in the world athletics events.
Tirunesh Dibaba, Ethiopia's star of the championship, completed the women's unprecedented world distance double, wining the women's 5,000 meter and leading her fellow country team-mates finishing the top four places. She made her own history by becoming the first runner to win both the 5,000 and 10,000 meter world titles. Mean while as predicted, the world best men Athlete of the year 2004, Kenenisa Bekele comfortably defended the title in 10,000 meter that he won two years ago in Paris.
Ethiopian athletes also continued their domination of the women's 5,000 m and 10,000 m events with Meseret Defar and Birhane Adere wining well deserved silver medals respectively. Sileshi Sihine took silver medals in both the 5000 meter and 10,000 meter races, while Tirunesh Dibaba's elder sister Ejegayehu Dibaba also came of age in Helsinki wining double bronze in the two events.
Compared to the 9th IAAF World Championships held in Paris Ethiopia has registered a remarkable progress in Helsinki increasing the number of Medals from seven to nine and became 3rd in terms of the world medal ranking from the 4th place in Paris.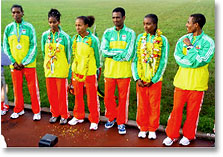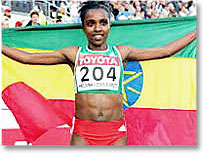 Ethiopia's Medal in Helsinki
Gold
| | | |
| --- | --- | --- |
| 1. | Tirunesh Dibaba | Women's 5,000 m. |
| 2. | Tirunesh Dibaba | Women's 10,000 m. |
| 3. | Kenenisa Bekele | Men's 10,000 m. |
Silver
| | | |
| --- | --- | --- |
| 1. | Sileshi Sihine | Men's 5,000 m. |
| 2. | Sileshi Sihine | Men's 10,000 m. |
| 3. | Meseret Defar | Women's 5,000 m. |
| 4. | Birhane Adere | Women's 10,000 m. |
Bronze
| | | |
| --- | --- | --- |
| 1. | Ejegayehu Dibaba | Women's 5,000 m |
| 2. | Ejegayehu Dibaba | Women's 10,000 m. |
| 3. | Team medal | Men's Marathon |
Top 10 Countries in the Medal Table of the Helsinki IAAF World Championship
| Rank | Country | Gold | Silver | Bronze | Total |
| --- | --- | --- | --- | --- | --- |
| 1 | United States | 14 | 8 | 3 | 25 |
| 2 | Russia | 7 | 8 | 5 | 20 |
| 3 | Ethiopia | 3 | 4 | 2 | 9 |
| 4 | Cuba | 2 | 4 | 0 | 6 |
| 5 | Belarus | 2 | 2 | 1 | 5 |
| 6 | France | 2 | 1 | 4 | 7 |
| 7 | Sweden | 2 | 0 | 1 | 3 |
| 8 | Bahrain | 2 | 0 | 0 | 2 |
| 9 | Jamaica | 1 | 5 | 2 | 8 |
| 10 | Kenya | 1 | 2 | 4 | 7 |