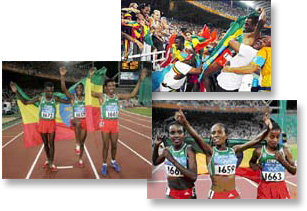 The 2004 Athens Olympic Games officially came to an end with such a spectacular ceremony on Sunday, 29th, August 2004. Ethiopia was one of the participants in the 16 day long big sport events with 24 runners and 2 boxers.
According to the final official result of the Athens Olympic Games, the United States ranked 1st totaling 103 medals, (35 gold, 39 silver and 29 bronze) followed by China, Russia, Australia and Japan, (16 gold, 9 silver and 12 bronze). Ethiopia ranked 28th garnering 2 gold, 3 silver and 2 bronze.
In comparison with the Sydney Olympic, where Ethiopia ranked 20th with 8 medals (4 gold), the outcome of Athens looks short of the expectation, specially when it comes to Women's 10,000m and Men's Marathon where the Ethiopians couldn't defend their titles. Ethiopian athletes, however, deserve gratitude and appreciation for bringing gold medal in Women's 5,000m to the country and Africa for the first time in the Olympic history.
As Ethiopia maintained first place among African countries and ranked above some countries in Europe, Asia, Latin America and Middle East in Athens, the Ethiopian Olympic squad has received warm welcome upon arrival at the Bole International Airport, Addis Ababa on Tuesday, 31st August 2004.