The Embassy exhibits Ethiopia's authentic and diverse culture to the Japanese public.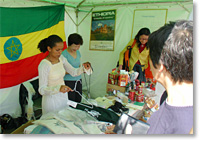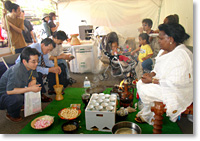 The Embassy of the Federal Democratic Republic of Ethiopia in Tokyo has actively participated in the African Festa Held at Hibiya Park on May 20 and 21st, 2006. The newly appointed Ambassador of Ethiopia to Japan, H.E. Ambassador Abdirashi Dulane and all staffs of the embassy attended the Festa.
At the Exhibition Corner the Embassy displayed Ethiopian traditional musical instruments and costumes, Jewelries, posters, Paintings, Agricultural export product such as washed and sun-dried Green Coffee beans (Sidamo and Yirgacheffe Grad 2 and Jimma Grad 5) and samples of roasted and well-packed Moccha (Ethiopian) Coffee from various coffee importing and roasting Japanese Companies and shops dealing with Ethiopian Moccha Coffee business.
The embassy has also hosted the unique and traditional Ethiopian Coffee Ceremony. The Ethiopian traditional coffee ceremony, as it has been getting popular in Japan, the booth was busy, throughout the day, with Japanese and foreign visitors. So many visitors expressed their satisfaction observing the ceremony and tasting the unique aroma of the Ethiopian Moccha Coffee.
At the African Food corner, in collaboration of the Embassy, Queen Sheba Restaurant served Ethiopian traditional staple cuisine (INJERA-flat spongy bread-and Doro Wot (Chicken Stew).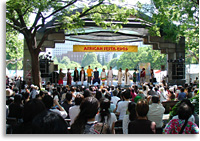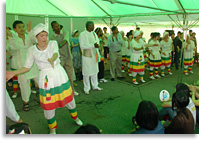 On the main stage, the Embassy took part in the Fashion Show program and exhibited different Ethiopian nations and nationalities (Amhara, Oromo, Tigre, Gurage, Walaita, Kambata, Harari, Somali, Gambela and Konso) costumes. Very colorful and different types of costume displayed on the program manifested that Ethiopia is, indeed, a mosaic of people.
Moccha Ethiopian Dance Group members, Japanese friends and promoters of Ethiopia, also performed the Ethiopian traditional dances on the main stage and later offered an interesting and practical Ethiopian various nations and nationalities traditional dance lesson to the audience at the workshop corner of the African Festa.
The Ethiopia Embassy has been actively participating on the African Festa and received a letter appreciation from the Ministry of Foreign Affairs of Japan.
The Ethiopia Association of Japan, Japan International Food for the Hunger (JIFH) and African Rikai presented at the Festa and contributed their part in promoting Ethiopia to the Japanese public.
The Festa has been organized annually by the Ministry of Foreign Affairs of Japan in a bid to promote African culture and tradition to the Japanese public. This year, almost all African Embassies in Tokyo and some Japanese Non-Governmental Organization (NGO's) or Non-profitable Organization (NPO's) have participated on the African Festa 2006. The number of visitors was quite impressive. Though, the official data is yet, to be compiled by the concerned authority the figure definitely surpassed that of last year and roughly reached 70,000.