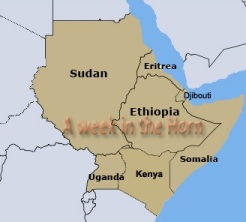 Al-Shabaab fighters forced out of Mogadishu;
And its retreat improves prospects for aid deliveries in Somalia
The UN Monitoring Group on Eritrea's anti-Ethiopian activities
Irresponsible claims by the BBC and a "Bureau of Investigative Journalism"
——————————————————————————–
Al-Shabaab fighters forced out of Mogadishu
Last Saturday, in a mass evacuation, Al-Shabaab forces pulled out of Mogadishu withdrawing towards Bal'ad and Afgoye towns thirty kilometers west, with many subsequently retreating further to Baidoa and Kismayo. According to reports from Kismayo over fifty carloads of fighters arrived there at the beginning of the week. Most of Al-Shabaab's senior foreign fighters, however, went by a different route, flying out from Balidogle airstrip to the north of the city. The withdrawal came as a surprise both to the TFG and AMISOM even though government forces had achieved a series of victories in recent months and made considerable advances on the ground in Mogadishu. One effect of this had been the tightening of government control around the Bakhara market and a substantial loss of revenue for Al-Shabaab. In addition, the recent death of Osama Bin Laden, and of Fazul Mohammed, has affected the influence of Al Qaeda in Al-Shabaab. This has been underlined by an internal power struggle, differences of opinion on tactics and strategy between local and foreign fighters, and sharp disagreements among the leadership over how to deal with the effects of the drought and respond to international demands for access by aid agencies. The drought and famine has produced a real crisis for Al-Shabaab whose inability to respond effectively has seriously damaged its credibility.
This has been underlined by the different statements and stances taken over the aid agencies. Following an apparent lifting of the ban on international aid, the chief commander of Al-Shabaab, Ahmad Abdi Abu-Zubeyr "Godane", as we noted last week, took a tough, hard line on distribution of the food aid intended for the people of Bay and Bakool regions. His actions were seen by others as a deliberate attempt to slow down or even halt distribution. It infuriated the Rahenweyne clan elders. They summoned Sheikh Mukhtar Robow "Abu-Mansoor", Al-Shabaab's second in command, and told him either to convince "Godane" to accept the distribution of food aid within the territories of the Digil and Mirifle (Rahenweyne) immediately or withdraw all Digil and Merifle Al-Shabaab fighters back to Baidoa. When "Godane" remained obdurate, Sheikh Mukhtar Robow acted on the second alternative.
Some of the younger members of Al-Shabaab's leadership have also lined up with Sheikh Muktar Robow, including Abu-Musab, an Ogadeni from Juba, and Yusuf from Hiiraan region. They have been campaigning strongly for Al-Shabaab to withdraw from Mogadishu and use its fighters to strengthen Al-Shabaab in the regions. There has been growing concern among Al-Shabaab commanders about the threat of an offensive in the areas outside Mogadishu, especially in Gedo, Bay, Bakool, Hiiraan and Juba regions. There have also been worries over rumoured possible external involvement from Ethiopia or Kenya, and over the recent successes of US and French helicopters and drone strikes, particularly in the Kismayo area. Colonel Hassan Dahir Aweys, former Chairman of Hizbul-Islam and now commander for Al-Shabaab in Dusamareb has also sided with Mukhtar Robow, Fuad Shongole, and Sheikh Ali Dheere (Al-Shabaab's spokesman) and others criticizing the views of "Godane" who wanted to stay in Mogadishu.
The strength of the opposition to "Godane" became apparent again last week at a meeting of senior Al-Shabaab commanders, together with the senior figures among the foreign fighters. It was a rowdy meeting, which was described as ending in self-recrimination and finger pointing, with "Godane" even accused of being behind the death of Fazul Abdalla Mohammed. "Godane", who himself believes his opponents may have arranged for the "mistake" that led to Fazul's death, was furious and walked out. In fact, according to internal sources in Al-Shabaab, the rank and file fighters have decided that Ibrahim Al-Afghani (Abubakar Al-Zeyli'i) must be given the local leadership of Al-Shabaab, while "Godane" should take over as Al Qaeda representative for East Africa.
There has been an ongoing dispute between the two men and the loss of public support and the recent military defeats that Al-Shabaab has suffered have been attributed to the deep rift between them. Ahmad Abdi "Godane", who was the right hand man of Adan Hashi Ayro, took over the leadership of Al-Shabaab after Ayro was killed in an American missile raid in Galguduud Region. Ibrahim Afghani became his deputy. Both "Godane" and Ibrahim Afghani come from the same clan, but the appointments triggered a power struggle between them.
Al-Shabaab sources say the decision to remove "Godane" from the leadership of Al-Shabaab was actually agreed several months ago but was never implemented because of the dispute between "Godane" and Ibrahim Afghani. The rift between them also caused divisions among other Al-Shabaab officials who were divided in their views. It now appears "Godane" has been officially told to hand over his role, a move accepted by Al-Shabaab members from the Darod, Hawiye and Rahenweyne clans, including Sheikh Mukhtar Robow, Sheikh Fuad Shongole and Colonel Hasan Dahir Aweys. They have made it clear they support Ibrahim Afghani as leader of Al-Shabaab. They have also accepted "Godane" as head of Al Qaeda in East Africa. Al Qaeda had asked Al-Shabaab to put a name forward to fill the post after the death of Fazul Abdalla Mohammed in June. These decisions are intended to put an end to the rift between the two men.
While Al-Shabaab's withdrawal from Mogadishu has been welcomed by government, AMISOM and aid agencies alike, it has left major worries over whether the TFG is capable of administering the whole of the city. There is some pessimism about the TFG's capacity and preparedness, and concern about the possibility of a reappearance of clan controlled territories, with the danger of north-eastern districts falling under Abgal control, central areas to the Haber Gidir and the west and part of central areas to the Murasade. This would seriously undermine the TFG. Ahlu Sunna wal Jama'a forces in Mogadishu have been expanding their influence in some areas, while Brigadier-General Yusuf Indha'ade is reportedly spreading his influence from Hodon towards the Bakhara Market.
At the beginning of the week the government offered an amnesty to Al-Shabaab, calling on any remaining Al-Shabaab fighters in the city to give themselves up and renounce violence. "Put down your weapons and your guns, and come and join the people and your society…For those who have been misled by the senior commanders, now is the time to end the war." There are still some Al-Shabaab remnants in the city, and there has been some shooting. The Cabinet held an emergency session this week to address the security situation, debating whether to form joint security units composed of police, intelligence and military units or to deploy the military on the outskirts of the city to prevent infiltration. There are fears the retreating forces may have mined some areas as they left. TFG and AMISOM forces are conducting house-to-house searches to ensure the safety of residents returning to the districts of Yaqshid and Wardhiigley and areas surrounding Mogadishu Stadium, a former stronghold of Al-Shabaab. Searches are also taking place in Karan, Hodan, and Howlwadag. The police have re-established themselves in the police stations in Bakhara and Suq Ba'ad markets, previously held by Al-Shabaab; and AMISOM have already begun to move into Shibis, Abdi Aziz and neighboring areas.
In the past it has been common for Al-Shabaab to disappear into local communities at need, to bury their heavier arms and ammunition supplies, often in the forested areas of Lower Shebelle region and Ras Kamboni, and hide any armoured vehicles. They have also been known to recruit local militia and train and equip them to carry out proxy hit and run attacks on government forces and installations as an interim measure while Al-Shabaab forces recuperate and reorganize. It may be difficult for the TFG to deal with this. The TFG needs to carry out swift consultations with various elements of the Hawiye community in Mogadishu, clan elders, businessmen, and civil society groups as well as politicians, and other groups like Ahlu Sunna. Unless it can tighten its grip quickly, other competing groups will try to take advantage of Al-Shabaab's withdrawal.
At the beginning of the week, President Sheikh Sharif visited Uganda to ask President Museveni to provide a further 3,000 troops to bring AMISOM up to the full 12,000 strength mandated by the UN Security Council and the AU. AMISOM's new commander, Major General Fred Mugisha, who took over last week, has said AMISOM urgently requires additional troops as well as a maritime and air capacity to secure the city and create an enabling environment for the provision of aid. AMISOM is now working with the TFG on a new security plan but this will require more troops for AMISOM as it now has to cover a much larger area. General Mugisha appealed to AMISOM's international partners to expedite the deployment of the 3,000 extra troops already authorized by the Security Council as a matter of urgency.
Al-Shabaab has claimed its retreat from Mogadishu was only tactical, but General Mugisha said even though the retreat appeared to have been deliberate and coordinated, it had actually been forced by TFG and AMISOM successes. "They did not abandon Mogadishu of their own free will," he said. He admitted that there were still pockets of insurgents in the city, particularly near the pasta factory and north east of the stadium. Nevertheless, he emphasized this week that "90-95 percent of Mogadishu" had been liberated. There is no doubt that this will mean a significant loss of revenue for Al-Shabaab which was collecting taxes from around 4,000 shops in Mogadishu, most in Bakhara, with fees ranging from $50 a month from small shops to thousands of dollars from large telecommunication companies. Certainly, the retaking of Mogadishu is, as TFG Prime Minister Dr. Abdiweli called it "a tremendous step forward" but the TFG now has to demonstrate it can use the opportunity provided. It is also a real chance for international aid agencies to start to provide aid on a substantial scale to the hundreds of thousands in need in and around Mogadishu (see below).
******************
——————————————————————————–
and its retreat improves prospects for aid deliveries in Somalia
The retreat of Al-Shabaab from Mogadishu has raised hopes that international aid agencies will now finally be able to step up aid deliveries to the thousands of internally displaced people in and around Mogadishu, and perhaps more widely. Almost immediately after the weekend thousands of IDPs from around the city began to move into it, and there were reports that many more were on their way from the nearby famine areas despite the dangers of continuing fighting. According to Mark Bowden, head of UN OCHA for Somalia, aid is reaching no more than 20% of the 2.6 million Somalis who need it, though about half the 600,000 people in Mogadishu are receiving aid. Transport and security remain the major problems. A car bomb exploded prematurely 13 kilometers south of Mogadishu on Monday, and there has even been a shootout or two at aid distribution points.
The World Food Programme has airlifted 86 tons of fortified food for malnourished children to Mogadishu, the first part of a planed 2,000 tons. It will also be sending another 10,000 tons of fortified cereals to Somalia by air and road. It is beginning an airlift of 2,000 tons of high energy biscuits to the region for delivery to the most vulnerable in the Somali refugee camps in Kenya and Ethiopia. This week also saw the arrival of the first UNHCR chartered plane into Mogadishu for five years, bringing emergency aid including shelters and blankets. A second plane arrived yesterday and a third is scheduled for next week.
The UN Food and Agricultural Organization (FAO) is hosting a high-level ministerial meeting in Rome next Thursday, August 18th. The aim is to agree on steps to start a short-term agricultural recovery in the affected areas of the Horn of Africa; to identify concrete programmes and projects for action by governments in the region. Suggestions will include cash for work in agriculture and water harvesting, seed distribution, vaccination and animal feeding, irrigation and food storage. The FAO is concerned that support for incomes and safeguarding people's assets, like livestock, has so far been overlooked, and this will make recovery harder. The meeting will set the scene for the pledging conference called by the African Union, to be held in Addis Ababa on August 25th.
The international agencies are currently facing serious shortfalls in funds and pledges. The UNHCR says that emergency food stocks inside Somalia and elsewhere are being rapidly depleted, and there are still major shortfalls in funding. UN agencies are calling urgently on donor countries, the private sector and individuals to help close the funding gap. This week, as Jill Biden, the wife of the US Vice-President, and Dr. Shah, administrator of USAID, visited Dadaab refugee camp in Kenya, the US approved another $105 million for urgent humanitarian relief. On Tuesday, this week, the UN Emergency Relief Co-ordinator, Catherine Bragg, warned that the peak of the crisis had not yet been reached. She cited the high levels of severe malnutrition and the deaths of those under five combined with high cereal prices and a dry harvest season. She appealed to the international community for the 1.3 billion dollars needed urgently to save lives. The famine is expected to spread to all regions of southern Somalia in the next four to six weeks. Other parts of the region also remain in crisis.
Meanwhile, the Ethiopian government and UNHCR jointly launched a vaccination campaign for famine displaced Somali children following a suspected measles outbreak. All the children in Kobe, the most affected of the Dollo Ado camps, will be vaccinated, and the campaign, which will include vaccination against polio, will be extended as necessary to the other camps. There are an estimated 118,000 Somali refugees in the Dollo Ado camps, and a fourth camp, at Hilaweyn has just been opened.
This week, the Ethiopia Red Cross Society launched an appeal for 240 million birr to provide assistance for six months for a total of 165,000 people in need of assistance in the Guji and Borena zones of Oromia Regional State. This will provide support for food relief, water and sanitation and emergency health care. The ERCS said it would be working in close collaboration with the Disaster Risk Management and Food Security department of the Ministry of Agriculture.
*****************
——————————————————————————–
The UN Monitoring Group on Eritrea's anti-Ethiopian activities
Two weeks ago, we carried a general outline of the Report of the UN Monitoring Group on Somalia and Eritrea and the evidence it had collected of the efforts at destabilization in the Horn of Africa by the Eritrean regime. Last week we looked in more detail at the activities of Eritrea in Djibouti and South Sudan. This week we will be looking more closely at the Monitoring Group's evidence of Eritrean involvement in Ethiopia.
There has already been a good deal of publicity about the Eritrean regime's attempt to disrupt the African Union's Summit in Addis Ababa last January. The Monitoring Group Report is specific: "Although ostensibly an OLF operation, it was conceived, planned, supported and directed by the Eritrean government's external operations directorate, under the leadership of General Te-ame Goitom Kinfu. If carried out as planned, the operation would have almost certainly caused mass civilian casualties, damaged the Ethiopian economy and disrupted the AU summit." Planning for the operation started in 2008. Three OLF teams were assembled and given training in urban warfare, explosives, detonators and other techniques in Eritrea. Their training was interspersed with reconnaissance visits to Addis Ababa to survey possible targets which included the African Union headquarters, London Café near Bole Airport, the Axum Hotel, and the Filoha area near the Sheraton Hotel. Another intended target was the Merkato, the largest open air market in the continent, in order "to kill many people". Follow-up operations that were discussed included bombings of government-affiliated banks, public transport networks and the Addis Ababa power grid.
The plan collapsed when one of the teams coming overland from Assab was intercepted near Bati; and a second team which came via Djibouti to Addis Ababa failed to rent a car. The UN interviewed those involved over three days and had access to the explosives, arms, telephone and financial records, and telephone intercepts which included voice recordings of conversations between the senior team leader, Omar Idriss and General Te-ame and Colonel Germachew Ayana in Eritrea. Material captured from those involved included medical supplies manufactured in Eritrea and a sniper rifle, a Dragunov, which the government of Romania confirmed had been sold to Eritrea in 2004. As an Eritrean website put it, the collection of material, which also included a list of contacts in Eritrea, detailed names of the Eritrean officers who did the training, the locations of the training camps told a narrative that was so persuasive that it convinced all the IGAD states to support the idea of stronger sanctions.
Eritrean involvement for the OLF wasn't confined to the abortive attack on the AU Summit. According to the UN the OLF had benefitted from Eritrean patronage since the 1998-2000 war, and Eritrea's links with the OLF in the context of Somalia were documented by previous Monitoring Groups. The Report notes that the OLF had had offices in Asmara "for over a decade" and had used Eritrea for training and "as a platform for operational deployment". It quotes an internal OLF contact list, containing principal Eritrean contacts, including, inter alia, General Te'ame. The Report adds that "the Monitoring Group has been able to verify much of this through interviews with former OLF members" and that it had been able to confirm that that these links were still active.
The Report made the failed terrorist attack on the AU a "case study", devoting 7 pages to the details of the attempt and adding another 9 pages of photographs and photocopies of the evidence it accumulated on the attempt. It also detailed additional activities by the Eritrean regime in Ethiopia and its support for various other armed Ethiopian opposition groups. The Report noted that the Monitoring Group had "received credible information of Eritrean support for the following Ethiopian armed opposition groups"… including the Ogaden National Liberation Front, the Afar Liberation Front, the Sidamo Liberation Front, the Tigrean People's Democratic Movement, as well as other unidentified fighters from the Amhara and Gambella regional states and the Oromo Liberation Front.
The Report goes into some detail on the ONLF noting that Eritrean support for the front began during the Eritrean-Ethiopian war, something noted in earlier Monitoring Group reports. The first ONLF delegation visited Asmara before 2001 for direct talks with President Isaias and other officials. Former and current ONLF officials told the UN that prior to 2006 Eritrean assistance to the ONLF was mostly channelled via Bosasso to the Abudwaq area of central Somalia and then across the border into Ethiopia. Colonel (later General) Te'ame was one of those in charge of the logistics of some direct shipments of arms and ammunition from Eritrea. Eritrean payments were also made to a Yemeni arms dealer in 2007-2008 but the arms he provided were "substandard". In 2006 after the ICU seized control of Mogadishu, Colonel Tewelde Habte Negash had a series of meetings with ICU leaders. This allowed for material from Eritrea to be delivered both to the ONLF and to the ICU either overland through Bosasso or by air to Mogadishu. After the ICU fled from Mogadishu and the TFG took the city over with Ethiopian support, the main channel of Eritrean support for the ONLF reverted to Puntland. This however came to an end in 2008 when "Ethiopian intelligence cooperation with the Puntland authorities led to the arrest of several ONLF officials in Puntland."
After the loss of the Puntland link in 2008, the main Eritrean-ONLF supply line moved to Awdal in Somaliland and in September last year a group of more than 200 ONLF fighters landed near the port village of Lughaya. They intended to slip across Somaliland territory to cross into Ethiopia near Boroma. They were detected and pursued by Somaliland security and finally intercepted, defeated and dispersed by Ethiopian military inside Ethiopia.
The Report notes that the UN interviewed surviving members of the force who numbered 76, and inspected weapons and equipment recovered from both sides of the border. The Report details these in an appendix. They included passports with Eritrean visas issued in Djibouti, Eritrean money, receipts from Assab's military hospital, a video camera with footage from Eritrea showing training activities, a GPS unit containing coordinates of the ONLF's movement through Somaliland into Ethiopia, military training manuals with detailed notes on weapons and explosives (annotated in Amharic and Tigrinya) and dates up to July 2010. The weaponry captured included RPGs, two Dragunov sniper rifles, Kalashnikovs and machine-guns. The Report noted that the "majority of this weaponry was either too dated or bore indecipherable markings rendering it difficult to identify the origin." Some, RPG grenades however, came from Bulgaria, from which Eritrea received a shipload in March 1999 – the Report includes the end user certificate issued by the Eritrean Ambassador to the Russian Federation and the contract signed with the supplier. The Monitoring Group said it was still waiting for a response from China about three Type-69 RPG launchers and two Type -56 assault rifles.
It might be noted that although Eritrea has claimed the evidence of the Monitoring Group pre-dates the imposition of Security Council Resolution 1907 (2009), the Report underlines that this "new evidence ….demonstrates beyond reasonable doubt" that Eritrean support to the ONLF has continued. The Report also quotes a senior official of the ONLF, interviewed in October 2010, as confirming that "ONLF forces still train in Eritrea, often in the vicinity of trainees from other Ethiopian armed groups, including the Sidamo Liberation Front, Amharas, Tigreans and Gambella people".
One Eritrean website classifies all this as "Smoking Guns Everywhere", making the point that if this evidence is unacceptable, then Eritrea must be the target of "a massive conspiracy against the Eritrean regime", a conspiracy involving the Monitoring Group, the UN Sanctions Committee, the UN Security Council, all the members of IGAD, countries that have supplied weapons to Eritrea, international banks, former fighters of the OLF, the ONLF, Al-Shabaab and other Somali organizations, and of FRUD in Djibouti, and members of the Eritrean Embassy in Nairobi. The conspirators must also have forged documents with Eritrean seals, Eritrean training manuals, invented weapons' registrations and end user certificates, and bank cash receipts, photographs, mobile telephone logs and faked voice recordings. As the Eritrean website concludes a more plausible option is to believe the mass of evidence produced by the Monitoring Report.
Next week we will consider the evidence on Eritrean involvement in Somalia and its links with Al-Shabaab, and then go on to look at what the Report reveals about the nature of the Eritrean regime itself.
*****************
——————————————————————————–
Irresponsible claims by the BBC and a "Bureau of Investigative Journalism"
Last week, yet another claim was made that the government of Ethiopia has been using billions of dollars of humanitarian and development aid as a tool for political oppression. This time the allegation came from a BBC programme and a new organization, a "Bureau of Investigative Journalism". It's an allegation that has been made on several previous occasions, and each time it has been found, on closer investigation, to be groundless. Equally, however, it has seldom been made in such a totally irresponsible manner as on this occasion when there are up to 15 million people in desperate need of international aid in the Horn of Africa, suffering from the effects of the worst drought in sixty years. It is almost impossible to believe that anyone, however critical they might be of the Ethiopian government, might be prepared to try to limit aid and assistance to the region at a time like this. By any rational standards it is an unthinking and quite frankly an indefensible action.
Opposition groups, the main source of the present allegations, made similar claims in October last year. On that occasion they used Human Rights Watch as the vehicle for their assertions which revolved around the accusation that aid was being politicised. NGOs and other international organizations operating in Ethiopia responded immediately. Embassies in Addis Ababa carried out their own investigations, as did the Ethiopian government. No one found any evidence at all for the allegations.
The Donors' Development Assistance Group, (DAG), which groups together the main donors in Ethiopia, issued a statement making it clear that the DAG did not accept HRW's claims. It pointed out that donors took any allegations of misuse of development aid very seriously (as they always do). It said categorically "we do not concur with the conclusions of the recent HRW report regarding widespread, systematic abuse of development aid in Ethiopia." The embassies of major donors, including the US, the UK, France and Ireland, separately concurred with this view. Aid agencies disassociated themselves from the allegations. Irish Aid, for example, said "our examination, in consultations with other major international donors in Ethiopia, does not support the HRW allegations". Delegations from the World Bank and NATO which had been looking at relief aid in Ethiopia that month said they were impressed by the safety net food programs, including the Protection of Basic Services Program and the Productive Safety Net Program. It might be noted incidentally, that these programs cover far greater numbers than there are in the ruling party; accusations that assistance is confined to party members simply bear no relation to actuality.
Nothing has changed in the last eight months except the onset of the drought. Ethiopia is, of course, only one of the countries seriously affected, but thanks to its effective early warning system and other anti-poverty mechanisms, it is managing to deal with the crisis reasonably well, though it might be sensible to add: so far. The government has made no secret of the fact that the situation remains extremely serious. The effects have been exacerbated, of course, by the flood of refugees from Somalia into Ethiopia (120,000 plus) and even more into Kenya (over 500,000). Indeed, given the scale of the crisis, there remains a very real need, in Ethiopia, as elsewhere in the region particularly Somalia, for further assistance on a substantial and continuing scale. That is why it is the height of irresponsibility to make unsubstantiated and false accusations of abuse or of misuse of aid, and for these to be mindlessly repeated by critics of the Ethiopian government in the European Parliament with no consideration either of the reality of the allegations or of their possible effect on the populations at risk.
The current size of the problem and the gap in funding for the emergency operations needed in Djibouti, Ethiopia, Kenya, Somalia and Somaliland is certainly affecting the ability to provide as much assistance as is required on the ground notably in Somalia. This is also the case in some parts of southern Ethiopia and northern Kenya. Equally, in Ethiopia the regional governments of the Somali and Oromia Regional States, and of the Southern Nations, Nationalities and Peoples' Regional State, as well as the relevant federal ministries are doing all they can to make sure as much aid as possible reaches everybody in need. The UN Under-Secretary for Humanitarian Affairs and Emergency Relief Coordinator, Baroness Amos, on a visit to the Somali Regional State last month felt able to commend federal and regional governments' efforts to mitigate the effects of the drought. According to UN OCHA, trucking of water is currently going on in several woredas of the Oromia Regional State, in parts of the Somali Regional State and in the Afar Regional State, as well as some areas of Tigrai Regional State. Elsewhere, the situation is being closely monitored and water trucking is being carried out wherever needed. Despite the latest allegations, the Oromia Regional State is the main current focus for rehabilitation of water resources – most of the water resources in the Somali Regional State have already been recently rehabilitated. Food distribution in affected areas began in February and has continued across the whole affected area. However, there is now a shortfall appearing because of the gap in funding which has meant that food supplies are beginning to be rationed. Nevertheless, for the moment, as other BBC programs have also reported more accurately, while many communities in Ethiopia may certainly be suffering, overall the disaster management system built up in recent years is working and the crisis is being controlled.
Nobody would deny that problems may occur in aid distribution when such large numbers are involved and so much food aid is being distributed over so large an area. It is certainly possible that a village might be overlooked, though one would certainly hope this would not happen. What does not occur, and never would, is that any village, any group, any kebele, could be denied aid for any reason. It is possible there might be a temporary shortage of aid or of transport, but in every such case, the problem will be remedied as rapidly as possible. There have been several cases where some individuals were refused aid but in every single case the causes were found, on investigation, to have been personal. No investigation, whether by local or federal authorities, or by anyone else, has found credible evidence, or indeed any evidence at all, of aid or assistance being refused on political grounds.
Donors and aid agencies, quite rightly, demand full accountability of the use of their aid and assistance. They insist that wherever it is distributed and whoever is involved, it must properly be accounted for. Ethiopia consistently provides this. Donors and international agencies regularly carry out their own checks on the use and distribution of all aid. They insist on this. Ethiopian CSOs also carry out their own checks. Any and all allegations of abuse and/or misuse are taken very seriously and immediately investigated. Wherever and whenever actual or specific evidence is provided of misuse of aid or abuse by officials or anyone else, immediate and decisive action is taken.
At the same time, it has to be said, it is not always possible to investigate some of these allegations, notably the vague claims about the Ogaden so often made to journalists visiting refugee camps in Kenya. The claimants normally provide little or no detail of incidents, no personal names, no place names, and usually no date. In the absence of any factual information, investigations are difficult, often impossible. Several years ago, using opposition sources in Kenyan refugee camps, Human Rights Watch made a series of claims about the actions of the Ethiopian army in the Ogaden. The government promptly set up an independent enquiry to investigate, and try to establish the truth of the allegations. In most cases it proved impossible because of the lack of information provided. However, the investigation did find a number of people, supposedly tortured and killed by the security forces, who were actually alive and well. In several instances, it also turned out that villages allegedly burnt by Ethiopian troops had suffered no damage at all; and in other cases, local inhabitants said that houses and buildings had actually been burnt by the Ogaden National Liberation Front, the admitted source of many of Human Rights Watch claims. It is perhaps pertinent to note that the ONLF has been declared a terrorist organization following its assassinations and killings of government officials, police and civilians, its attempts to bomb markets and other public spaces, and its indiscriminate planting of land mines over a number of years. This would not, of course, excuse any abuse of suspected ONLF prisoners.
Sources ignored by Human Rights Watch and by the BBC Newsnight and the "Bureau of Investigative Journalism" include, for example, police reports from Gode, Kebridahar, Degahbuur and other towns in the Ogaden, dealing with cases of rape and killing. While some of these appear to have been false or exaggerated, the police investigations of rape cases in the Ogaden region of the Somali Regional State in fact suggest the causes are almost entirely related to personal, or possibly clan issues. Records show that during the period 2001 to 2007 there were a total of just over 3,000 prosecutions for rape in the region and convictions were obtained in 2,100 cases. None of these involved members of the armed forces. In addition, there have also been some cases in which members of the armed forces were found guilty of various offences, including rape and other crimes, and given prison sentences. In none of these cases, however, was there any evidence, nor any suggestion, of political motives.
In these latest allegations a number of claims are again made against the Ethiopian defence forces in the Ogaden. In fact, the federal army is no longer involved in security inside the region. Since its successes against the ONLF in 2008/9, federal security units have been able to withdraw from internal security and concentrate on securing the borders against cross-border infiltration. Local security is now handled by the police and by local clan militia forces. It is pertinent to note that the larger fraction of the ONLF (at least 2/3rds) made peace with the government last year and returned to take advantage of the considerable development currently under way in the region. The remaining element of the ONLF, which is Eritrean based, made a failed effort to infiltrate over 200 fighters into the region last September (they were caught on the Somaliland border). Some of its members have now also quietly opened negotiations with the government. None of this was mentioned by the BBC.
In fact, it's hardly surprising that the authors of these latest claims admit that they cannot substantiate the allegations made by ONLF supporters or members. This is the central difficulty with these claims. They do not stand up to investigation, and their authors know this. However, they can, unfortunately, have an impact on issues like aid which is exactly what opposition elements and their supporters are looking for. That is irresponsible at any time, but it is indefensible at a time when the entire region is suffering so greatly from drought.
*****************
——————————————————————————–
Federal Democratic Republic of Ethiopia
Ministry of Foreign Affairs