Investment and Partnership Opportunities in Ethiopia
|
Investors are Welcome
|
Overview of Ethiopia's Export Products
|
Good Reasons to Invest In Ethiopia
|
Ethiopia's Specialty Export Quality coffee Grows Five-Fold
The economic liberalization process being undertaken in the country and the strong commitment of the Government to create a supportive environment for the development of the private sector have positively affected export growth.
Apart from the conducive and continually improving free market oriented policy environment, Ethiopia has various advantages for the development of its export sector. These include the abundant and capable labor force, low wage levels, a wide-ranging weather and soil conditions, preferential access to the European Union markets and proximity to the Middle-East markets. The preferential access to the Common Market for Eastern and Southern African States (COMESA) with a total population of more than 260 million also offers substantial market opportunities for several export items from Ethiopia.
At present, the major export products of Ethiopia include coffee, livestock products (Skins & hides, leather, live animals and meat), oil seeds and pulses, fruits, vegetables and flowers, textiles, natural gum, spices and mineral products. In addition to the efforts underway to increase the supply and improve the quality of these export products, investments in other currently unexploited, higher value-added, export sectors are highly encouraged. Recognizing that large capital investments are needed to exploit these resources, various incentives are currently provided to encourage foreign investments (including joint ventures and marketing arrangements) so that the sector provides meaningful contribution to the country's development.
The trade relations between Ethiopia and Japan have been strengthened over the years. As a primary trading partner, Ethiopia has been exporting some of its products like coffee, skins & hides, spices, oilseeds, natural gum, etc. to the Japanese market. Ethiopia's coffee, known as "Mocha Coffee" is famous in Japan, and currently ranked fourth in Japanese market next to Brazil, Colombia and Indonesia.
The Embassy of Federal Democratic Republic of Ethiopia in Tokyo is always ready to cooperate with those who have interest to do business in Ethiopia.
1. The uniqueness of Ethiopian Coffee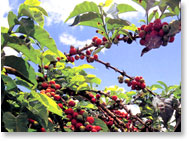 The word "coffee" comes from the name of one of the many parts of Ethiopia where coffee is grown – Kaffa. More genetically diverse strains of Coffee Arabica exist in Ethiopia than anywhere else in the world, which has lead botanists and scientists to agree that Ethiopia is the center of origin, diversification and dissemination of the coffee plant.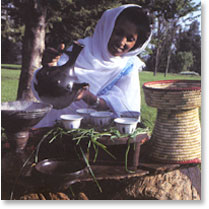 Coffee drinking has entered Ethiopia social life, and coffee is used in get-together or celebration or mourning, and to ward off drowsiness. Today, coffee ceremony – where coffee is roasted, ground and brewed – is central to Ethiopian social life. The ground around the brazier where the beans are roasted and brewed is strewn with green grass and flowers, and the air is perfumed with incense. In a world where time has long become a commodity, the Ethiopian coffee ceremony takes at least an hour and at least 3 cups should be drunk – takes us to a time when value was given to human relation and discourse.
From Ethiopia coffee spread first to its neighbors, in the Middle East, and from there, to the rest of the world. Today Ethiopia is the first in Africa in terms of coffee production.
For coffee a connoisseur, Ethiopian coffee is not only the world's first, but also the world's finest. This is both because of the diversity of flavors and also because in a world where consumers everywhere are increasingly worried about the effect of chemical pesticides and fertilizers on their health and the environment in general, Ethiopian coffee remains organic. Over 60% of Ethiopian coffee is produced as forest or semi-forest coffee. The soil of the forest floor is enriched from falling leaves, making fertilizers unnecessary. In these forests the high degree of genetic diversity has created a balance of pests and parasites, making chemical pesticide unnecessary too.
Coffee cherries are picked when they are bright red in color, glossy in appearance and firm but not hard to the touch. 65% of Ethiopian coffee exports are naturally dried, while 35% is pulped and "washed". Coffee grows at elevation between 1100 and 2300 meters above sea level.
The following are some of the coffees originating in Ethiopia, which are unique in the world.
Harar Coffee
This is produced in the Eastern Highlands. The bean is medium in size, with a greenish-yellowish color. It has medium acidity and full body and a distinctive mocha flavor. It is one of the highest premium Coffees in the world.
Wollega (Nekempte) Coffee
This is produced in Western Ethiopia, and the medium-to-bold bean is mainly known for its fruity taste. It has a greenish, brownish color, with good acidity and body. There are many roasters who put this flavor in their blends, but it can also be sold as an original gourmet or special origin flavor.
Limu Coffee
This is known for its spicy and Winnie flavor and attracts many roasters, especially in Europe and the USA. It has good acidity and body and the washed Limu is one of the premium coffees. It has a medium-sized bean, and is greenish-bluish in color and mostly round in shape.
Sidama Coffee
It has a medium sized bean, greenish-grayish in color. Sidamo washed coffee, known for its balanced taste and good flavor, is called sweet coffee. It has fine acidity and good body and is produced in the southern part of the country. It is always blended for gourmet or specialty coffee.
Yirgacheffe Coffee
It has an intense flavor known as flora. The washed Yirgacheffe is one of the best highland grown coffees. It has fine acidity and rich body. Many roasters are attracted to its delicate fine flavor and are willing to pay a premium for it. There are also other origins, such as Tepi and Bebeka, which are known for their low acidity but better body. In addition, there are commercially important origins, which are used for special blends.
When you are buying coffee, ask for Ethiopian, which has been organic long before organic became fashionable. If you would like more information about Ethiopian coffee and its many varieties, write to: Ethiopian Coffee Authority.
2. Leather and leather Products
Livestock potential: Ethiopia is the tenth in the world and first in Africa in livestock. According to the sample census carried out by the Central Statistics Authority of Ethiopia between 2001 and 2003, the country has 40 millions cattle, 25.5 millions sheep, 23.4 millions goats and 2.3 millions Camels. Despite the huge potential, the sector contributes only 16% GNP and 17% foreign currency, which leaves much more room for development in order to realize its full potential.
Currently, Ethiopia offers a wide range of processed and semi-processed hides and skins to the world market. Some of the products, such as Ethiopian highland sheepskin (which has gained international reputation for making gloves), are known for their quality and natural characteristics.
Ethiopian hides and skins exports including pickled sheep skin, wet blue sheep skin, crust sheep skin, wet blue goat skin, crust goat skin, crust cow hides, finished garment leather, finished glove leather, lining/upper leather, suede leather, full grain leather, corrected grain leather, embossed leather and patent leather
The export of finished leather and leather products (such as leather garments, foot wear, gloves, bags and other leather articles) is also highly promising.
3. Oilseeds and Pulses
Ethiopian oilseeds and pulses are known for their flavor and nutritional value as they are mostly produced organically. For instance, the Ethiopian white sesame seed is used as a reference for grading in international markets.
In terms of quantity, in 1996 – 97 (E.C), Ethiopia exported 78 thousand tons of oilseeds and 20 thousand tons of pulses.
Ethiopia's major oilseeds and pulses exports include, sesame seed, Niger seeds, linseeds, sunflower seeds, groundnuts, rape seeds, castor oil seeds, pumpkin seeds, haricot beans, pea-beans, horse beans, chick peas, beans and lentils
The gulf states (Saudi Arabia, Yemen, Israel), European Union, some Asian and neighboring African countries constitute the major markets for Ethiopia's oilseeds and pulses exports.
4. Natural Gum
Ethiopia is endowed with distinct climatic conditions, which enables it to grow diverse plant species used for industrial and pharmaceutical purposes. Acacia, Commiphora & Boswellia could be mentioned as one group of the various plant species grown in the arid and semi-arid areas yielding important gums.
The increasing trend of consumption of convenient foods has enhanced the growth of production of gum and its use over the past several years. As in most other sectors of the additives industry, increasing health consciousness has also tended to fuel growth for thickeners of natural origin.
The major gum products produced mainly for export are Gum Olibanum derived from Boswellia, Gum Myrrh, and Oppoponex derived from Commiphora and Gum Arabic derived from Acacia species.
Apart from their pharmaceutical applications, these products have a wide-range of industrial uses in areas such as beverages, candies, chewing gums, confectioneries, dairy products, gelatins, nut products, puddings and canned vegetables. Typical applications include their uses as:

Gum Olibanum

Gum Myrrh

Gum Oppoponex
Gum Arabic
Adhesive thickeners;
Thickeners, stabilizers, flavor, fixatives and emulsifying agents in food products;
Clarification in beverages;
Release agents for rubber products;
Formulations in cosmetics; etc.
5. Textile Fabrics and Garments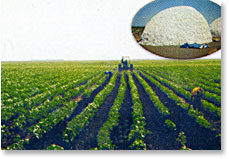 The textile industry is the largest manufacturing industry in the Country. There are more than fourteen state owned and private major textile and garment factories. It employs about 30,000 workers having a share of 36% of the entire manufacturing industry.
The main textile products manufactured in the Country are cotton and nylon fabrics, acrylic yarn, woolen and waste cotton blankets and sewing thread.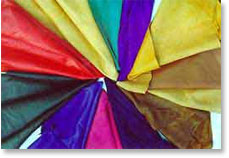 The domestic potential of cotton production as basic raw material is far more than the demand of the current installed spinning capacity and the availability of cheap labor is one of the major parameters for considering this industrial sector as one of the strategic industries for export development.
The cotton yarn and thread products include:
Yarn/bleached or gray/ combed or carded 81/2, 10, 21 30, 40, 50, 60, 80 counts and others as per the requirements of customers.
Pure polyester and cotton sewing thread in different colors and counts:
40/3, 50/3, 60/3 pure cotton;
60/3, 100% polyesters;
5,000 or 1,000meters in spool;
5,000 or 10,000 meters in cones for industrial use; etc.
6. Tea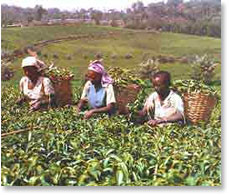 The quality of tea mainly depends on climatic conditions, the type of soil upon which the plant grows and the method of processing. In Ethiopia, tea is mostly grown in the highland dense forest regions where the land is fertile and thus the use of fertilizer is very minimal.
Moreover, the availability of abundant and cheap labor in the Country has made the use of manual weeding, instead of chemical weeding, possible. Because of this mostly organic cultivation, Ethiopian tea is increasingly sought for its aroma and natural flavors. This is confirmed by the "International Gold Star" award for quality recently given by B.D.I. in Madrid, Spain to one of the major Ethiopian tea exporters, Tea Production and Marketing Enterprise.
7. Mineral Products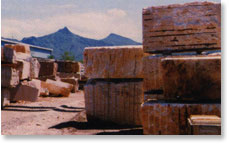 According to studies so far conducted, there are diversified mineral deposits available in many parts of the Country, most of which can meet export standards. Minerals so far supplied to export markets include gold, platinum, marble, granite, and tantalum, though in a very limited scale as compared to the immense potentials. Other metallic and non-metallic substances, including copper, lead, zinc, silver, gypsum, limestone, quartz and pyrite are also identified in various parts of the Country.
Most of Ethiopian mineral products are potentially exportable to countries in East and Southern Africa, and in the Asia / Oceania market area as, in both of these regions, because of the freight cost advantage over established exports from Europe and North America.
Ethiopia has also recently entered into the export of high quality dimensional stones, i.e. different types of unprocessed (blocks) and processed marble, granite and lime stones suitable for both internal and external uses.
8. Others
Some other products that Ethiopia exports to the world market include :
Spices
Civet
Beverages
Beeswax
Gall-stone
Cereals
Fish