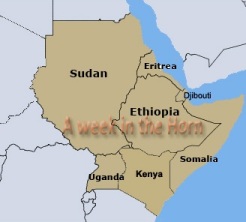 Another Parliamentary crisis in Somalia but the Garowe conference goes ahead.
A US delegation visits Addis Ababa
The Hopeful Continent – Emerging Africa
A Chatham House report on the economies of the Horn of Africa
News and Views:
A new French-Djibouti Defence Cooperation Agreement
A Joint Climate Change Initiative
Sudan and South Sudan to Resume Talks in Addis Ababa in January
South Africa's Defence Minister visits Ethiopia
——————————————————————————–
Another Parliamentary crisis in Somalia but the Garowe conference goes ahead
On Tuesday last week, December 13th, a group of MPs in Somalia's Transitional Federal Parliament voted to impeach the Speaker who was out of the country on a visit to Italy, announcing the appointment of the Chairman of the Constitutional Committee, Madobe Nunow, as an interim Speaker. This followed unsuccessful efforts in mid-October by a hundred or so MPs to persuade the Speaker to allow Parliament to discuss the Roadmap. The move was, of course, against the spirit of the Kampala Accord which specifically included a clause to the effect that both government and parliament would try to create an environment conducive to a cooperative working relationship and would refrain from media recrimination, threats of impeachment of the President, Speaker and two deputy speakers of Parliament, or dismissal of Parliament. Supporters of the Speaker said the MPs were acting against parliament's standing orders and the Transitional Federal Charter as well as the Kampala Accord, and rejected the move, refusing to discuss the election of a replacement. Clashes followed. There was more fighting when some MPs met on Wednesday this week to pass a vote of no confidence in the Speaker, accusing him of slowing down parliamentary proceedings. The President and the Prime Minister were also accused of ignoring the latest crisis in parliament. In fact, President Sheikh Sharif did issue a statement asking all MPs to respect the law, and deploring the timing of the row when the country was so deeply involved in the fight against Al-Shabaab, the daunting task of implementing the Roadmap and the humanitarian crisis. He also noted the uncertainties over the procedures followed and the numbers involved, and called on MPs to follow the internal regulations of parliament, to respect the Kampala Agreement and the Transitional Federal Charter of Somalia. Subsequently, Speaker Sharif Hassan met with President Sharif Sheikh and they reportedly agreed to resolve the present TFP rift amicably and through compromise. There is no doubt that the recurrence of this problem is unhelpful, and every reason for the status quo ante to be restored.
Concern over the problem was sufficient to bring an international fact finding committee of representatives from the UN, AU and IGAD to Mogadishu over the weekend as part of efforts to resolve the situation. Christian Manahl, the UN Secretary-General's Deputy Special Representative for Somalia, Boubacar Diarra, the Special Representative of the AU Chairperson, and Kipruto arap Kirwa, the IGAD Facilitator for Somalia, appealed for all parties to avoid any comment or action that could exacerbate an already tense situation or aggravate the crisis. The committee noted the wish of parliament to discuss the Roadmap and acknowledged that "this should happen as soon as the present crisis is resolved."
There had been concern that the crisis might give rise to a further delay for the UN sponsored High Level Meeting. In the event this was convened in Garowe on Wednesday and will continue until today. Among those present are President Sheikh Sharif, Parliamentary Speaker Sharif Hassan, Prime Minister Dr. Abdiweli Mohamed Ali, government ministers, President Abdirahman Mohamed Farole of the Puntland Administration, and representatives of the Galmudug Administration, of Ahlu Sunna wal Jama'a, of civil society organizations, the UN, IGAD, and a number of MPs. This Reconciliation and Constitutional Conference is another step in the implementation of the Roadmap for Ending the Transition in Somalia by discussing and agreeing to the constitution-drafting and adoption process. The meeting is considering recommendations produced on parliamentary reform and discussing reconciliation initiatives and is expected to agree on the next constitution-making steps. Feedback on the constitution is currently being considered by the Independent Federal Constitution Commission. The Government has already appointed a nine-member Committee of Experts (three of whom are at the conference) to work with the IFCC. A committee has also been appointed to set up an Independent Interim Electoral Commission to oversee the Constituent Assembly which will eventually adopt the draft constitution. Some deadlines have already been missed and there have been difficulties over national reconciliation, over the declaration of an Economic Exclusion Zone and over increasing the transparency of government. However, the National Security and Stabilization Plan is currently awaiting approval from Parliament, and the Government has supported local peace-building initiatives in Galmudug, Himan and Heeb, Puntland and Gedo. It has also established coordination mechanisms to improve aid delivery, including a Co-ordination Office in the Prime Minister's Office and a Disaster Management Agency.
Meanwhile, the first contingent of troops from Djibouti, an advance party of 100, landed at Mogadishu airport on Tuesday this week. Another 800 will follow during the course of the week as the battalion from Djibouti deploys, joining the 9,800 Burundian and Ugandan troops of AMISOM. AMISOM's deputy commander, Brigadier-General Audace Nduwumunsi, described the arrival of the Djibouti forces as a great step forward for AMISOM and for building stability in Somalia. The deployment of troops from Djibouti will bring AMISOM up to the strength of 10,700 in total. It has a UN Security Council mandate for up to 12,000 but the AU has requested for this to be increased to 20,000. Sierra Leone is expected to send a battalion of 850 next year and Kenya has offered to re-hat its forces in Somalia under AMISOM. An Al-Shabaab spokesman, Sheikh Ali Mohamed Rage, has already threatened that Al-Shabaab "will be targeting [Djibouti troops] in our soil…you should consider your own choice rather than rush to Somalia, here is a burnt place for African invaders."
******************
A US delegation visits Addis Ababa
A U.S delegation has been in Addis Ababa this week. Led by Mr. Karl Wycoff, the Deputy Assistant Secretary for African Affairs in the US State Department, the delegation also included Ambassador James Swan, the State Department's Special Representative for Somalia, Major General Christopher Leins and Major General Charles Hooper from the US Defense Department and other officials. Mr. Wycoff described the visit as part of the ongoing dialogue between the US and countries in the Horn of Africa with a view to find a lasting solution to the problems of Somalia. The delegation met with Prime Minister Meles and also held discussions with Ambassador Berhane Gebrechristos, State Minister for Foreign Affairs, on Wednesday on bilateral and regional issues of mutual interest, though the main focus was on recent security and political developments in Somalia.
Ambassador Berhane underlined the cooperative spirit demonstrated by IGAD and the AU in their efforts to maintain peace, security and stability in the region. He also recalled IGAD's unanimity in the face of Eritrea's destabilizing activities, in Somalia and elsewhere in the region. Ambassador Berhane appreciated the demonstrated cooperative spirit of IGAD, the AU and the international community in the efforts of maintaining peace, security and stability particularly in Somalia and in the sub-region, and recalled IGAD's unanimous stance on the efforts aimed at putting an end to Eritrea's destabilizing activities mainly in Somalia, and also in other parts of the region. In terms of security, the two sides underscored the significant advances by TFG and AMISOM forces in driving out Al-Shabaab from virtually all of Mogadishu and other areas. They stressed the need for both IGAD and the international community to intensify their support to the TFG to help consolidate its areas of control and seize the opportunities now being created.
On the political front both sides reiterated the importance of strict and timely adherence to the implementation of the Roadmap for the TFG as it is the only currently existing viable solution. The two sides agreed on the need to encourage the Somali people and TFG to remain unified and focused on implementation of the four pillars of the Roadmap, security, constitution drafting, political outreach and good governance, and of the Kampala Accord, despite the recent hiccups in the Transitional Federal Parliament. The two sides made it clear they appreciated the humanitarian and logistical support for the people of Somalia and for the TFG and emphasized the importance of harmonizing these with regional packages and international procedures. It was agreed the international community must encourage such harmonization to bring about the best results. The two sides also shared views on the need to avoid a "proliferation of initiatives" which might not be helpful in addressing the problems and might even derail implementation of the Roadmap. They exchanged views on various international initiatives and ad-hoc efforts to help bring about peace in Somalia, welcoming the UK's initiative in organizing a conference on Somalia at the end of February in London. The US delegation expressed the readiness of the US to work closely with IGAD on these matters and underlined its readiness to continue to exchange views on these subjects.
*****************
The Hopeful Continent – Emerging Africa
Two or three weeks ago, the Economist, more or less putting the whole question of climate change on one side, described Africa as "the hopeful continent" and suggested that "after decades of slow growth, Africa has a real chance to follow in the footsteps of Asia." It noted that over the past decade six of the world's fastest growing economies were Africa and in eight of the past ten years, Africa had grown faster than East Asia, including Japan. It suggested the commodities boom was partly responsible, and singled out favourable demography as well as the growth in manufacturing and service economies.
Being the Economist, it was also quick to qualify any praise: "Optimism about Africa needs to taken in fairly small doses". Most Africans live on less than two dollars a day, food production has slumped since independence and drought and famine persist. It notes that "the climate is worsening with deforestation and desertification still on the march" though it is careful not to apply blame in these areas. It also manages to hand out a collection of brickbats: Angola and Equatorial Guinea are called "oil-sodden kleptocracies"; Rwanda and Ethiopia which it admits have begun to get economic development right have become "politically noxious"; Congo is "barely governable and hideously corrupt"; South Africa "which used to be a model for the continent is tainted with corruption"; and Zimbabwe is "a scar on the conscience of the rest of southern Africa."
Equally, it allows that some numbers are moving in the right direction. There is a growing middle class, and as many as 100 million people may have an income of $3,000 a year by 2015. The rate of foreign investment has soared; China's involvement has improved infrastructure and boosted manufacturing. Brazil, Turkey, Malaysia and India are all following its lead. It notes Africa's enthusiasm for technology with more than 600 million mobile phone users (more than Europe or America) providing valuable advances in communications with mobile banking and telephonic agro-information. Health and governance has improved. It notes the bulge of better-educated young people entering the job market. This is good for any country but the Economist also notes the need to provide jobs. It also quickly adds there is a need for deep reform. Its prescriptions include making it easier to start businesses, cutting some taxes and collecting others honestly; taking land out of communal ownership to allow farmers access to credit; and "most of all, politicians need to keep their noses out of the trough and to leave power when their voters tell them to." It also calls on western governments to open up trade rather than dish out aid and lower tariff barriers; foreign investors should sign the Extractive Industries Transparency Initiative and African governments should insist on total openness in any deals.
Coincidentally, Foreign Affairs, the publication of the US Council on Foreign Relations, has recently carried a review article of a book by Steven Radelet's "Emerging Africa" with the sub-title "How 17 countries are leading the way". The book was published just over a year ago. Steve Radelet was a senior fellow at the Center for Global Development for most of the 2000s, served as an economic advisor to the Government of Liberia and in the U.S. Treasury for Africa, the Middle East, and Asia, and is now chief economist for USAID. The aim of "Emerging Africa" is to explain how and why Africa has turned the corner. He identifies five main factors: "expanding democratization has opened up governments, bolstering popular accountability; improved economic policies have curbed the worst tax and regulatory policies; debt reduction has freed up resources for education and health care; new technologies (most notably the ubiquitous cell phone) have boosted Africans' access to markets; and the rise of a new generation of energetic leaders…has brought new ideas and attitudes to the fore." His 17 countries are Botswana, Burkina Faso, Cape Verde, Ethiopia, Ghana, Lesotho, Mali, Mauritius, Mozambique, Namibia, Rwanda, Sao Tome and Principe, Seychelles, South Africa, Tanzania, Uganda and Zambia. He adds another six: Benin, Liberia, Kenya, Malawi, Senegal and Sierra Leone which he calls "threshold countries".
Radelet produces detailed evidence from dozens of key measures including income levels, foreign trade, political freedom, education, cell phone penetration, and demonstrates that his seventeen countries have built impressive foundations, and documents visible growth from the mid 1990s through 2008: better trade, investment and exchange rate policies encouraged investment; incentives for farmers led to better prices and bigger harvests; exports have risen. "The evidence is impressive and refreshing". Interestingly, he does not find that oil producing countries are part of the general economic improvement as they have earned huge sums but created few jobs, failing to develop balanced economies. The seventeen emerging countries have been learning governance and policy lessons that the oil producers have ignored.
Radelet is clear. Good governance has gone hand in hand with economic growth between 1996 and 2008, and those countries with poor governance have also shown the worst economic results – and the Horn of Africa contains two of them – Somali and Eritrea. The correlation between governance and growth is very clear. The relationship between democracy and economic growth "is crystal clear: democratic governments…have been successful, while authoritarian governments have by and large been failures." Thirteen of Radelet's seventeen emerging success stories have made the transition to more or less fully fledged democracies since the 1990s.
Foreign Affairs says Radelet makes a "robust case" for suggesting democratic reform was the necessary precondition for recent economic advances, but wonders why some countries succeeded but others did not, and why this worked in the 1990s but not, for example, in the 1960s. One difference between the two periods worth highlighting is education, the growth of "human capital" and the boosting of labour productivity which originally laid the foundation of political change and subsequently enabled economic developments. Education makes people more politically knowledgeable and contributes to a more vibrant democracy. Radelet indeed argues that competitive democracies are more likely to adopt pro-growth economic policies. Education also produces more skilled and knowledgeable economists and policy experts and a resultant growth of technical capacity.
The result as the Foreign Policy review emphasizes is that "increasingly educated populations, democratic policies, spreading technologies and improved economic policymaking have combined to create a new Africa that bears little resemblance to the caricature of a "dark continent" that still rears its head in the media." It notes that Sierra Leone is no longer known for "blood diamonds" but for improving access to electricity and improving rural roads; Ethiopia is no longer an inspiration for food-aid concerts, but flies millions of dollars worth of fresh flowers to Europe; and even in Congo where a civil war still lingers, army officers are being brought to trial for abuses. "It is time to turn the page and stop treating Africa like an exotic basket case," and look to ways to sustain these developments. One suggestion is to take over some of the foreign investment that has previously gone to labour-intensive sectors of manufacturing and services in Asian countries now that wages are increasing in Asia and their populations aging. Whatever route is taken "it will require competent leaders pursuing sound economic policies."
*****************
A Chatham House report on the economies of the Horn of Africa
Last month Chatham House issued a report with the title: "Hostage to Conflict: Prospects for Building Regional Economic Cooperation in the Horn of Africa". Authored by Sally Healey, a former member of the British Foreign Office, it is a report on the economic dimensions of conflict and cooperation in the region and asks whether over the long-term the economic drivers of the region have the potential to transform the conflicts of the region or whether political stability is needed as a precondition for economic cooperation. The report essentially covers the countries of IGAD, the Intergovernmental Authority for Development which covers Djibouti, Eritrea, Ethiopia, Kenya, Somalia, South Sudan, Sudan and Uganda, though Eritrea's membership is still suspended. IGAD, of course, is one of Africa's Regional Economic Communities and provides the institutional framework for economic integration. It also covers security, and as the report notes, there can be divergences between economic links and the developmental pressures for closer economic integration, and the needs of regional security including tighter border controls and restrictions on the movements of goods and people. The report points out that formal intra-regional trade has remained low, but it also emphasizes the much closer social and economic cross-border ties and trading networks that exist particularly in pastoral areas and emphasizes their importance in Somalia. It underlines the ability of informal cross-border traders to continue operations and sees this as a resource for market-based cooperation and local economic security.
The report suggests that closer economic cooperation may be politically impossible for the moment but it underlines that the countries of the region remain bound together by history and geography, lending themselves to the possibilities of cooperation. The potential of transport corridors to ports, of managing water resources, of common management of pastoral rangelands and of improved energy resources, are detailed. It argues that IGAD should be developing policies more closely aligned to shared resource management and support for regional development. It suggests that a less state-centric approach to regional integration might be able to capitalize on existing cross-border relationships and open up their commercial potential, turning them away from illicit trading to provide a regional economic asset.
The report looks at the ties that bind the countries of the region together, the impact of distrust on security, and at the potential for greater economic integration. Central to its arguments are Ethiopia's economic relations in the region. Ethiopia, it acknowledges, is "the most capable and at times formidable state, as an emerging regional economic and political power and, for the outside world, the most well-connected in development and diplomatic terms". It emphasizes that Ethiopia's political and economic relations in the region "will remain critical to the prosperity and stability of the Horn." Indeed, overall, the report notes that Ethiopia has registered an annual 10.1% economic growth in recent years. It indicates that the country's exports have grown very rapidly in recent years, with their value increasing by 38% between 2008/09 and 2009/10. This growth in exports is due to the production of a much more diverse range of exports. Live animal exports for example earned the country US $91 million, and US $34 million in meat exports in 2009/2010 compared to US $0.2 million and US $1.7 million in 2000/2001 respectively. The report also demonstrates that Ethiopia is trading more vigorously with its neighbors, and suggests that the various dam projects now being built as part of the current Growth and Transformation Plan illustrate the scope to build infrastructure that can support regional development. As the plan stresses, power production envisaged from the hydroelectric schemes is far greater than Ethiopia's own requirements. The plan indeed calls for future export of power to neighbors on a substantial scale as part of the longer-term regional development.
The report notes that greater priority has had to be given to security in some areas, something that was specifically increased by Eritrea's adversarial approach to Ethiopia from the mid 1990s. This was also increased by the rise of Islamic militancy and terrorism, and the attempts of Al-Itihaad and the Al-Shabaab to reactivate Somali irredentism. That, in turn, has had an effect of economic development, and the endless conflicts in Southern Somalia have "denied economic opportunities to a whole generation of young men whose limited options make them ready recruits for militias or other illicit activities", including piracy and other "war economies that flourish" in Somalia.
IGAD, of course, has played a more active role than other African Regional Economic Communities in peace and security activities. Its efforts were central in the Comprehensive Peace Agreement in Sudan (2005) and in the Mbgathi Peace process for Somalia (2004). It has also developed a unique "Conflict and Early Warning Response Mechanism" (CEWARN) designed to monitor low-level cross-border conflicts in pastoral areas, creating networks in three cluster areas linking pastoralists, government bodies and research institutes. It has had some considerable successes but it remains unable to tackle higher-level conflicts that threaten regional stability. The report argues that IGAD's regional peace and security activities leave a lot to be desired but it also expects them to remain in place and increase over time.
At the end of the day, the report argues that much greater economic interdependence and integration could take place in the Horn of Africa if there was "a more benign security environment." It emphasizes the importance of "public goods", referring to commodities that benefit the community as a whole, as a means to build closer cooperation as part of IGAD's strategy. It underlines the value of lively cross-border trade networks as part of a balanced approach recognizing the benefits of informal trade. It claims progress in peace-building at state level could be reinforced by cross-border peace-building measures, and this had implications for donors who should lay the foundations for future integration in such areas as environmental management, transport, energy and water management. Moves towards economic integration across borders, investment in an effective supportive infrastructure and a focus on impoverished border areas would go a long way towards creating "a more stable foundation on which economic drivers of cooperation and prosperity could thrive."
*****************
News and Views
A new French-Djibouti Defence Cooperation Agreement
President Ismail Omar Guelleh of Djibouti who has been in a visit to France this week met with President Nicolas Sarkozy on Wednesday. President Guelleh made no statement to the press after his meeting, but the two sides signed a new treaty of cooperation in defence matters. This replaces the agreement signed in Djibouti in 1977 after the country's independence. According to a statement from the Elysee Palace in Paris, the agreement establishes a framework for bilateral military cooperation and covers the facilities granted to the French forces stationed in Djibouti. The French base in Djibouti remains the largest French military base overseas, and has nearly 3,000 troops as well as air support. According to the statement the agreement "demonstrates the commitment of both countries to close cooperation in security". The statement added that "France is firmly committed to the independence and territorial integrity of the Republic of Djibouti, strategically located in the heart of a fragile area." France, of course, demonstrated this commitment when Djibouti found itself threatened by Eritrea's attack in 2008, subsequently the subject of Security Council Resolution 1844 which Eritrea has persistently ignored. During their meeting, President Ismail Omar Guelleh and President Sarkozy also discussed strengthening of bilateral relations, the situation in Somalia and the fight against piracy. *****************
A Joint Climate Change Initiative
The Common Market for Eastern and Central Africa (COMESA), the Southern African Development Community (SADC) and the East African Community (EAC) have agreed a five year program for Adaptation and Mitigation of Climate Change. The program, launched on the sidelines of the UN Climate Change Conference at Durban (COP17) earlier this month, aims to harmonize climate change programs by the three regional blocs and address the impact by adaptation and mitigation activities designed to enhance economic and social resilience. The focus will be on increasing investment in resilience and for carbon-efficient agriculture, linked to expanded forestry, efficient land use and green energy. The program has received funding from Norway, the EU Commission and the UK's Department for International Development (DfID). A statement on the occasion made it clear that the program would provide for the three Regional Economic Councils to cooperate in various areas, to mainstream climate change in national and regional strategies and in climate resilient and climate-smart agriculture as well as coordinate their approaches to vulnerability assessment and disaster risk activities, and also, of course, towards climate change negotiations.
*****************
Sudan and South Sudan to Resume Talks in Addis Ababa in January
Following discussions with representatives of governments of Sudan and South Sudan, the AU High-Level Implementation Panel (AUHIP) has set out a timetable for the next round of talks to take place in Addis Ababa from 17th to 23rd of January. The new round of talks is hoped to bring a settlement to the dispute over the fees to be paid by South Sudan for the use of pipelines owned by Sudan to take South Sudan's oil to the export terminals in Sudan's sea outlet of Port Sudan. The previous talks collapsed in late November after the AUHIP's proposed compromise for Juba to pay Khartoum an annual percentage of oil exports failed when Sudan rejected the South's offer. An AUHIP statement said there will be concurrent meetings in January over oil and on the issue of arrears as well as a meeting on banking and trade payments. Sudan says South Sudan has paid no fees for the transport of oil since it became independent, while South Sudan argues the transportation fees demanded, US$32.2 per barrel, are too steep. On the issue of commercial oil negotiations, AUHIP said it might ask representatives of oil companies to attend the meetings to provide information and input. South Sudan's chief negotiator, Pagan Amum, said this would help overcome the "principle of discrimination" and give all parties a platform on which to base discussions on tariffs and costs being put forward. Given what some observers have called "the policy of brinkmanship" adopted by both sides over oil, the next round of talks will be critical. Meanwhile, on Friday last week, Prime Minister Meles reiterated his commitment to work for a settlement to the pending issues from the CPA after a meeting with Sudanese Defence Minister, Abdel-Rahim Hussein, who brought a message from President Omar al-Bashir. The Prime Minister emphasized that Ethiopia would continue its support for the efforts to find peaceful solutions for any disputes between the governments of Sudan and South Sudan. He also underlined Ethiopia's desire to develop bilateral ties with Sudan.
*****************
South Africa's Defence Minister visits Ethiopia
On Monday, Prime Minister Meles Zenawi met with visiting South African Minister of Defence and Military Veterans, Dr. Lindiwe Sisulu. The two discussed ways of strengthening bilateral cooperation particularly in the areas of trade, agricultural extension and human resource development, and emphasized the mutual benefit of cooperation and the value of working together and sharing experiences. During the discussion, Dr. Sisulu noted that Ethiopia had rich experience in the fields of agricultural extension and human resource development. She expressed South Africa's keenness to work in collaboration. She told reporters after the meeting that Ethiopia and South Africa would sign a Memorandum of Understanding to enable Ethiopia to provide air force training for South Africa and exchange best experiences in this area. Prime Minister Meles expressed Ethiopia's readiness to assist and added that Ethiopia was committed to do its part in organizing a joint committee to undertake organization of the air force training programs and facilitating exchanges between Ethiopia and South Africa.
*****************
Federal Democratic Republic of Ethiopia
Ministry of Foreign Affairs