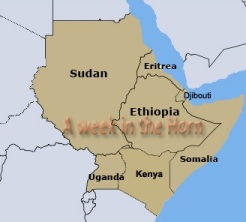 The 2nd India Africa Forum Summit opens next week
The Fourth UN Conference on Least Developed Countries
Somalia: The continued split in the TFIs
AUHIP hosts another round of Sudan talks
President Isaias rejects independence for South Sudan
A Sudanese delegation looks at Ethiopia's poverty reduction strategies
——————————————————————————–
The 2nd India Africa Forum Summit opens next week
The Second India Africa Forum Summit takes place in Addis Ababa next Tuesday and Wednesday, May 24th and 25th. The Summit will be preceded by a Foreign Ministers' meeting on May 23rd and meetings of senior officials today and Saturday. There will also be a special meeting of trade ministers on Saturday. India's Minister of Commerce and Industry, Anand Sharma, is today inaugurating the India Show, organized by the Confederation of Indian Industry with support from Ethiopia's Ministry of Trade, on the theme of India-Africa: Partners in Progress; Friends Forever. The opening session is being addressed by Mt. Erastus Mwencha, Deputy Chairperson of the AU Commission, Ethiopia's Minister of Trade, Ato Abdurahman Sheikh Mohamed, and Ato Mekonnen Manyazwal, Minister of Industry. The Confederation of Indian Industry is represented by a 15 member high-level delegation and more than 80 companies will be displaying their products.
Next week's summit will be the second summit-level meeting between India and Africa. The first, in New Delhi in April 2008, opened a new chapter in relations between the continent and India. Fifteen African states are expected to participate in the Summit on behalf of Africa: Algeria, Burundi, Chad, Egypt, Equatorial Guinea, Kenya, Libya, Malawi, Mauritania, Namibia, Nigeria, Senegal, South Africa, Swaziland and Ethiopia. The choice of countries attending is decided by the African Union on the basis of the Banjul format adopted by the AU for participation in Summits of this kind. Prime Minister Dr. Manmohan Singh will lead the delegation from India. The meeting is expected to focus on significant aspects of the partnership between India and Africa to enhance relations for mutual benefit. It will give emphasis to ways of increasing levels of trade and investment. Bilateral trade between India and Africa has currently reached 48 billion US dollars and India hopes it will reach 70 billion US dollars by 2015. There will also be a focus on regional and international issues of common concern, among them piracy and terrorism. The Summit is expected to produce an Addis Ababa Declaration and an Addis-India Framework for Enhanced Cooperation.
******************
——————————————————————————–
The Fourth UN Conference on Least Developed Countries
A high-level Ethiopian delegation led by Prime Minister Meles and Deputy Prime Minister and Foreign Minister Hailemariam Desalegn attended the Fourth United Nations Conference on Least Developed Countries (LDCs) in Istanbul from May 9th to 13th. Over 50 heads of state and government, 10 vice presidents, 94 ministers, and 47 heads of international organizations, as well as over 8,000 delegates participated in the conference. It was organized following United Nations General Assembly's decisions in Resolutions 63/227 and 63/213 and convened with two key objectives – to evaluate the implementation of the Brussels Program of Action adopted ten years ago and to launch a new ten-year development framework for sustainable development in LDCs. Months of painstaking negotiations between rich and poor countries preceded the Conference which culminated in the adoption of the Istanbul Declaration and the Istanbul Plan of Action (2011-2020). The Istanbul Plan of Action has laid the framework for global commitment and partnership to lift LDCs out of poverty and underdevelopment. As a co-chair of the preparatory committee, Ethiopia played a significant role in reflecting the views of LDCs and in serving as a reliable bridge between the negotiating parties.
Deputy Prime Minister and Foreign Minister Hailemariam spoke during the general debate in the Conference Plenary, noting that although LDCs generally have registered a commendable growth since the adoption of the Brussels Plan of Action, their growth was certainly not fast enough. One of the reasons for this was that the global partnership the Plan had envisioned had not materialized. Ato Hailemariam underlined the point that extreme poverty and inequality were likely to spawn instability that transcended boundaries. Ato Hailemariam called for more effective mechanisms to implement global partnerships and suggested the creation of a new international development architecture that would address the challenges that the LDCs face today.
At a separate event on Resource Mobilization and Global Partnership at which he was a keynote speaker, Prime Minister Meles spoke of the need for LDCs to fully exploit their domestic potentials, especially taxation, arguing that "The ability to collect taxes goes to the very heart of the legitimacy of every government." Mobilizing local resources should be seen as a primary driver of local economies. Foreign aid, grants and loans would remain important but the Prime Minister made a distinction between partnership that aimed at a win-win approach and the "philanthropic" mentality which saw aid as an altruistic gesture. It is the former, obviously, that should be the basis of future partnership between rich and poor countries. The latter did more harm than good. While massive dollar savings were "milling around" in the developed countries, LDCs faced enormous shortages of finance to build their productive capacities.
The Conference was organized around a number of "tracks" or themes: the Parliamentary Track and the Intergovernmental, Private Sector and Civil Society Tracks. These served as fora for members of parliament, business executives, leaders of NGOs and social activists to discuss ways and means through which the LDCs could be pulled out of their current state of underdevelopment. There were also a series of high–level side events organized round thematic issues. Notable among them was a debate on Macro-economic Policies for LDCs: From Recovery to Sustainable Development in which Prime Minister Meles was a panellist. Organized by the United Nations Department of Economic and Social Affairs, this discussed alternative macro-economic policies for the LDCs. In an earlier press briefing Prime Minister Meles had indicated that countries like Ethiopia were being punished for pursuing "unorthodox" economic policies, adding "For the last ten years, we have refused to implement macroeconomic policy copies of international financial institutions; so far, we are successful." Nevertheless, Ethiopia was receiving only half of the financial support it deserved because it opted for "a home-grown policy". The Prime Minister noted that involvement of the people was a linchpin to sustainability, and he emphasized that to ensure sustainable economic development LDCs should develop pro-poor, equitable policies.
In the Istanbul Declaration, the conference committed itself to the Program of Action throughout the coming decade. It underscored that the ownership, leadership and primary responsibility for development in LDCs rested with the LDCs themselves. Good governance, inclusiveness and transparency as well as domestic resource mobilization were central to the development process of the LDCs. It recognized LDCs' efforts to make progress in provision of essential services, education, health, water and sanitation and shelter, and encouraged gender equality. It underlined the importance of infrastructure services and institutional capacity, emphasizing the need for a dynamic and socially responsible private sector, and the importance of mobilizing domestic and external financial resources. It undertook to promote access to knowledge, information, technology and know-how, welcoming the Turkish government offer to host an International Science, Technology and Innovation Center. It stressed that integrated and sustainable agriculture and rural development policies were essential to the eradication of poverty and hunger, and acknowledged the potential of regional economic integration and cooperation. It reaffirmed international trade as a key driver of economic growth and sustainable development and called on WTO members to intensify their efforts to bring the WTO Doha Round to a successful conclusion. It underlined its commitment to the implementation of duty-free and quota-free market access for all LDCs. It noted that new innovative finance mechanisms had the potential to contribute to LDC development. It expressed concern over LDC's high debt burden and underlined the need for implementation of bold and comprehensive measures to address this effectively and equitably. Overall, there was an urgent need to strengthen the capacity of LDCs to mitigate crises and effectively respond to economic shocks. The conference acknowledged the adverse impact of climate change on LDCs and noted the need for mobilization and provision of additional, adequate and predictable financial resources for LDCs' adaptation and mitigation needs. It welcomed the decision to establish the Green Climate Fund and noted the increasingly important role of South-South Cooperation for LDCs' development. It referred to the important role of Parliaments in debating development strategies as well as overseeing their implementation, to ensure effectiveness, transparency and accountability. The conference called on civil society and other relevant stakeholders at all levels to enhance their roles in the development efforts of LDCs. It reaffirmed the critical importance of effective and efficient follow-up and monitoring mechanisms at all levels to assess progress in the implementation of the Program of Action which was also adopted by the Conference.
******************
——————————————————————————–
Somalia: The continued split in the TFIs
There is still no indication of any end to the problems of the TFIs in Mogadishu. On Monday, the Speaker of the Transitional Federal Parliament, Sharif Hassan Sheikh Adam, warned that there was a danger of fresh conflicts with multiple rival presidents if presidential elections were not carried out in August. The Speaker called for TFG leaders to accept the election process which he said would be held in Mogadishu for the first time. The election would be legal and would "support the legitimacy of national institutions", Sharif Hassan told reporters at a press conference in his office. The Speaker referred to the UN Security Council's latest call on holding elections and demanding an end to the rift between the government leaders: "I ask the UN, the AU, IGAD and neighboring countries to assist us holding the election". He also asked the Djibouti government to support Somalia's election. Asked if he intended to run as a presidential candidate, Sharif Hassan declined to comment, saying that this was not the right time.
The Speaker and the President recently held an informal meeting in a bid to try and resolve the stalemate which has virtually split the TFIs in two. Insiders say that President Sheikh Sharif urged the Speaker to encourage Parliament to accept a one year extension of the current TFG term, but Speaker Sharif Hassan told the President that an election is unavoidable although, he added, that it was still possible for Parliament to reverse its decision. One concern of President Sheikh Sharif hinges on the recently appointed Parliamentary election committee which will manage the procedural sequence of the elections, whether Speaker or President should be elected first, if an election becomes inevitable. The sequence of voting will affect the results.
Meanwhile, AMISOM and Somali government forces have continued operations against Al-Shabaab on a number of important fronts including the heavily entrenched eastern part of Bakaraha market, the Aden Ade road and the strategic southern zone of the market encompassing African village, NBC and the former Russian camp. The attacks launched four days ago led to heavy fighting but eventually forced Al-Shabaab to abandon a number of important positions. AMISOM forces are now holding the areas seized from Al-Shabaab. The Defense Minister, Abdul Hakim Mohamed Haji Fiqi, said the advance by his forces and AMISOM troops was a critical part of pushing Mogadishu's armed opposition away from the populated areas and ultimately out of the city entirely. The successes came after an increase in the numbers of AMISOM and of TFG forces on the ground in Mogadishu, and the minister said it showed what could be achieved if the TFG was provided with the necessary resources.
As A Week in the Horn noted earlier, at the beginning of this month Al-Shabaab's leadership, facing a series of defeats in Mogadishu and elsewhere in the country, had a meeting in Brava, south of Mogadishu to discuss future strategy. The aim was to try and revive its momentum and to introduce some fresh initiatives. One of these apparently has been an effort to reconstitute some of the former remnants of Al-Itihaad Al Islamiya into an organization that Al-Shabaab now wants to call the United West Somali Liberation Front, presumably intended to operate inside the Somali Regional State of Ethiopia. Al-Shabaab even claimed to show local media the new forces of its UWSLF under training. The leader of this organization is claimed to be Sheikh Abdullahi Raabi, from the Ogadeni clan and a former Al-Itihaad fighter. He participated in the recent meeting of top Al-Shabaab commanders in Afgoye when the movement promised revenge against the West for the death of Al Qaeda leader, Osama bin Ladin.
It appears Al-Shabaab is apparently to try to shift the fight away from Somalia back to Ethiopia, and also to try to undermine the successful peace deal reached last year between the Ethiopian Government and the UWSLF. In fact, the UWSLF under the deal reached with the government has been progressively expanding its involvement in development in the Regional State and its co-operation with the regional government. The larger part of the ONLF which also made peace with the government last year has also been involved in growing cooperation and development in the region.
******************
——————————————————————————–
AUHIP hosts another round of Sudan talks
Another round of the talks between North and South Sudan started yesterday in Ethiopia. Moderated by the African Union High Level Implementation Panel headed by former South African President Mbeki, they are expected to last for three days. This is another session of the Economic Cluster and the main issues will be oil-sharing, the currency and external debts. The last round of discussions of the economic cluster took place at the Kuriftu resort south of Addis Ababa in March when the South agreed to help the north to persuade international creditors to provide debt relief. The Economic Cluster negotiations have included discussion of North Sudan retaining external assets and external liabilities. The negotiations on oil have centered on the use and ownership of oil infrastructure and how to manage revenues and fees. There has been agreement over introduction of a new currency and the Sudanese pound will continue as legal tender in the South for a transitional period of between six to nine months. Reports from Khartoum also suggest that Abyei and border demarcation may also be on the agenda.
With time running out before the July deadline, these discussions may provide the last chance to resolve some of the issues, and it is hoped the meeting will reach sufficient conclusions to allow the African Union to proceed to the stage of drafting agreements. Other outstanding issues include settlement of the Abyei question, popular consultations on the future status of Southern Kordofan and Blue Nile states, and the issue of SPLA troops in those regions, as well as areas along the border. There are five areas in dispute, and also issues of access to water, agricultural schemes, grazing land, historical tribal boundaries and political constituencies which need to be settled. In addition, the Border Commission has yet to submit an operational plan for the demarcation of non-contentious border areas. Most important remains Abyei which represents a dangerous flashpoint. There has been no progress on central aspects of the Abyei Protocol, among them final agreement on the boundaries of the region, border demarcation, wealth-sharing, and eligibility to participate in the Abyei Area referendum. The Kadugli Agreements of January addressed some of the security concerns, but no agreement has been reached on Abyei despite Presidency level negotiations under the auspices of the African Union High Level Implementation Panel.
Meanwhile, the United Nations Secretary-General, Mr. Ban ki-Moon, is about to give the UN Security Council a special report on the situation in Sudan as requested by Security Council Resolution 1978 (2011) of April 27th and a possible mandate for a continued United Nations presence in South Sudan after its independence. The Government of South Sudan will have urgent need to address such problems as a weak administration of justice and law enforcement; extension of its authority will be crucial to maintain peace and security. The Secretary-General will strongly recommend supporting the Government of Southern Sudan's request for a United Nations presence. In his last report in April, the Secretary-General noted the United Nations had initiated a system-wide, integrated mission planning process for a possible mission in South Sudan. An assessment mission visited in February and March, and its recommendations have now been reviewed. Mr. Ban ki-Moon is now likely to recommend that that the Security Council consider a multidimensional United Nations operation, under Chapter VI of the UN Charter, to provide support for popular participation in political processes including elections, encourage ratification of key international human rights treaties and conventions, support participatory governance and conflict mitigation, the establishment of an independent media, security sector reform and the rule of law, the development of a national security policy, strengthen the police and the promotion and protection of human rights, and assist in building an independent and competent judicial system. The main effort of the mission would be on the political level, to assist the Government and local stakeholders prevent conflict, consolidate peace, strengthen the pluralistic political system, and address issues related to peace, governance and reconciliation. The Mission would be expected to have a military component to provide security for United Nations personnel, to deter violence through deployment in areas at high risk of conflict and protect civilians under imminent threat.
A UN Security Council delegation will arrive in Ethiopia today on the first stage of a trip to Ethiopia, Sudan and Kenya. In Addis Ababa it will be holding discussions with African Union officials on peace and security issues. It will also be meeting with Prime Minister Meles before heading to Sudan, where it will hold talks in Khartoum and Juba as well as visit Abyei. The last stop will be Nairobi, where the delegation will meet senior Kenyan government officials to discuss concerns related to situation in Somalia, peacekeeping and reconciliation efforts.
******************
——————————————————————————–
President Isaias rejects independence for South Sudan
In less than two months, South Sudan is due to become independent, but according to the President of Eritrea, it is almost unthinkable that it might become a viable independent state. He seems adamant that this is going to be an exercise in futility. Indeed, he himself cannot imagine seeing a divided Sudan, and thinks that for anybody in his right mind South and North Sudan should remain united. Such a statement, coming as it does from the leader of a nation that was itself born as the result of a long and bloody war of secession, is curious and in more ways than one. Indeed, for President Isaias to make these sorts of remarks about an "unviable" South Sudan state almost appears to be a case of sour-grapes; one might even surmise that the regime in Asmara merely wants Eritrea to remain the youngest nation in Africa.
To begin with, Eritrean officials have always made it a point to overstate their contribution to the SPLM's struggle against the North. They even brag that if it had not been for their support, armed personnel and all, the SPLM could not have made it beyond Kurmuk. In fact, as recently as 2005, Asmara was flaunting its open support for all the opposition forces opposed to the government in Khartoum. Indeed, there is no reason to believe that it has stopped support to all of these groups even today.
More importantly, however, as so often President Isaias appears to be making every effort to ensure that any predictions of his will become self-fulfilling prophecies. It is now apparent that Eritrea is bringing together all kinds of forces opposed to South Sudan's independence. It is not entirely clear what exactly the Eritrean regime might stand to gain from the unleashing of problems in South Sudan. It is, however, very clear that it is not in the interest either of a united Sudan, as President Isaias would have the world believe Eritrea is, or in the interests of North or South Sudan. His attempts to stay involved in the crisis of Sudan, in one form or another, is a testament to his objection to the notion of unity among any of Eritrea's neighbors.
President Isaias' remarks on South Sudan have been merely one of a number of efforts to share his thoughts with the world once again. There's no indication of any greater substance or of any change of attitude. All he offers are his know-it-all monologues and unsolicited advice to the international community on every imaginable issue. This is the twentieth anniversary of Eritrea's de facto independence in 1991 and many are now trying to figure out what tomorrow might hold for an impoverished state teetering on the brink of disaster with its most productive segment of population almost stampeding across its borders. President Isaias, however, still appears intent on continuing to do what he does best: obfuscating in every direction while making sure any sign of return to normalcy in the country is nipped in the bud. In this he actually appears to have locked horns with his own officials who in all fairness do sometimes try to display a modicum of diplomatic finesse, however hollow. It is in this light that the recent remarks by President Isaias contrast sharply with what other officials have said.
In a recent interview with local journalists, Eritrea's Foreign Minister stated Eritrea's efforts were "essentially focused on securing, peace, stability, development and cooperation in the wider Horn of Africa and the Red Sea Regions." He also added for good measure that "Eritrea would work diligently in efforts to transform the conflict-stricken region into a cooperative and peaceful region." He even spoke of his country's "constructive engagement on regional and international matters" in a matter-of-fact tone. It is almost surreal to hear an Eritrean official speaking in these terms about attitudes which Eritrea has so conspicuously avoided in practice. To the extent that Eritrea observes constructive engagement with its neighbors or with the international community, it does so in complete breach of the notion. For Eritrea to claim to work towards peace and stability in the region is as much fiction as the kind of 'quality of life and development' that it claims its self-reliant policies provide.
******************
——————————————————————————–
A Sudanese delegation looks at Ethiopia's poverty reduction strategies
This week, a delegation from Sudan has been in Addis Ababa to look at Ethiopia's experience in poverty reduction. The delegation from the Ministry of Finance and Economic Development was drawn from departments dealing with poverty reduction, urban water development, policy and strategy and monitoring and evaluation. Their visit lasted three days, from May 16th to 18th. They were briefed by government officials in the relevant departments on Ethiopia's achievement in poverty reduction, a major item on the government's agenda. The national development strategies are built on broad based, rapid, sustainable economic growth, social development and good governance. Officials provided details of the Agricultural Development-Led Industrialization strategy and other elements. Government investment in agriculture has brought five to six million people out of poverty level in the past twenty years, and the sector has averaged 8% consecutive growth rates in the past five years with a total crop production of 191 million quintals. Advances in education and health and the devolution of power to the regional governments under the federal structure have also greatly contributed to the reduction of poverty. A critical element has been the implementation of Ethiopia's own home-grown policies and an encouraging combination of public participation, private sector and civil societies' involvement.
The Sudanese delegation took note of the progress registered and the coordinated efforts of stake holders. It appreciated its welcome and noted that peace and stability and working with international financial institutions through harmonized polices towards the Millennium Development Goals was helping Ethiopia's continued economic growth especially in agriculture, social and infrastructure development. Sudan, after the independence of South Sudan, is intending to develop a poverty reduction strategy. It is looking to be able to utilize examples of the development experiences of Ethiopia and of other neighbouring states.
*****************
——————————————————————————–
Federal Democratic Republic of Ethiopia
Ministry of Foreign Affairs