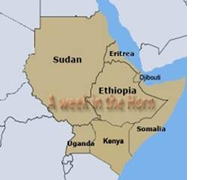 Kenya, Somalia and Uganda agree on the next steps for Somalia
AU Chairperson calls on Africa to speak with one voice on Climate Change
Eritrea only sees a lengthening list of enemies
"A form of extortion" – Eritrea's 2% Diaspora tax.
——————————————————————————–
Kenya, Somalia and Uganda agree on the next steps for Somalia
It has been a busy week diplomatically for Kenya and others involved with Somalia. On Monday, the East African Defence Ministers, and the Chiefs of Defence Staffs met together with other stakeholders including AMISOM and the TFG, and neighboring countries to discuss recent developments in Somalia and the need to take advantage of these developments and consolidate security across the country. The meeting considered the practical steps necessary to further the process of peace and reconciliation in Somalia. It called on the international community to enhance its support to AMISOM especially through the provision of force enablers to increase operational effectiveness. There was agreement on the steps necessary to develop a comprehensive approach against terrorists and pirates.
There have been reports this week that AMISOM has a funding gap which has delayed the deployment of reinforcements and the provision of additional equipment. The Ugandan army spokesman, Lt. Colonel Kulaigye said Uganda was ready to send four helicopters to Somalia but there was no funding to maintain them – the cost for deploying them for a year would be $20 million. AMISOM currently has no air support, and Lt. Colonel Kulaigye explained the helicopters would be "very handy, given the state of the roads". He said: "You can do operations, you can do casualty evacuations, you can do quick resupplies."
On Wednesday, the Presidents of Kenya, Somalia and Uganda met in Nairobi to discuss the situation in Somalia and the next steps required to build on the successes already achieved. The meeting was also attended by the foreign and defence ministers of the three countries. In a communiqué read out after the meeting by Kenyan Foreign Minister, Mr. Moses Wetangula, the three heads of state emphasized the need for enhanced coordination between AMISOM, the TFG and the Kenyan Defence Forces. They called for regional solidarity to bring an end to the state of lawlessness that has prevailed in Somalia over the last two decades. They expressed confidence in the joint Kenyan-Somali operation as an historic opportunity to restore stability and security in Somalia. They paid tribute to AMISOM and the troop contributing countries for their continued sacrifices and appreciated the decision of Djibouti to provide troops by the end of the year. The meeting also welcomed Kenya's willingness to contribute troops to AMISOM, noting that UN Security Council Resolution 1744 (2007) removed previous restrictions preventing states that border Somalia from deploying troops in the country. Mr. Wetangula subsequently said that if a request was made Kenya would be prepared to make available "a few of its battalions to join Uganda, Burundi and Djibouti to help keep the peace in Somalia". The heads of state endorsed resolutions agreed by the Ministers of Defence and Chiefs of Defence Staffs of troop contributing countries earlier in the week on the consolidation, coordination and expansion of AMISOM. They also called on humanitarian agencies to relocate to secure parts of southern Somalia to provide aid more directly and effectively to affected communities.
On Thursday, the AU Peace and Security Council met to discuss Somalia, and to consider Kenya's offer to commit troops to AMISOM and other options. The AU has repeatedly called for the swift deployment for another 3,000 troops for AMISOM to bring its levels up to the 12,000 authorised by the UN Security Council. Any decisions will however need to be endorsed by the Extraordinary Heads of State Summit of IGAD due to be held next Friday.
Meanwhile, on the ground there have been claims of an attack on the Al-Shabaab stronghold at Afgoye, outside Mogadishu last Saturday with either missiles, drones or aircraft being responsible for two heavy explosions. In the absence of any claims of responsibility, speculation has been widespread and both US and French officials have denied any involvement, though the US has said its drones do carry out reconnaissance missions over Somalia. The target was apparently an Al-Shabaab strategy meeting. Al-Shabaab is now reported to be pulling out of its training camps and dispersing its forces into smaller groups. According to Kenyan military spokesmen, Al-Shabaab units have also been abandoning their uniforms and switching to night actions after taking significant casualties in the first weeks of the Kenyan operation.
In Mogadishu itself soldiers of the TFG this week finally received their salaries for August and September. Payment for October is expected shortly, and TFG officials say that salaries will now be paid regularly. It is hoped that this will help to bring an end to the looting of aid from distribution centers in the capital which has been causing concern. Earlier this month, President Sheikh Sharif warned that "soldiers and armed militia" would be dealt with severely if found to be responsible for looting food aid. TFG spokesman, Abdirahman Omar Yarisow, said the government had taken stern measures including putting district commissioners before a military court where they got lengthy prison sentences. The government acknowledges that there had been instances when people had been killed when security forces opened fire during food distributions. This was being investigated and those responsible "will face severe punishment".
******************
——————————————————————————–
AU Chairperson calls on Africa to speak with one voice on Climate Change
On Wednesday, this week, the African Union Commission hosted a meeting of the Committee of Heads of State and Government on Climate Change (CAHOSCC). The meeting, chaired by Prime Minister Meles, the Coordinator of CAHOSCC, was attended by representatives of Algeria, the Democratic Republic of Congo, the Republic of Congo, Ethiopia, Kenya, Mali, Mauritius, Mozambique, Nigeria, South Africa and Uganda.
The opening session was addressed by the Chairperson of the AU Commission, Dr. Jean Ping, who reported the interest among Africans on climate change deliberations was very intense. "To us all climate change is a defining challenge of our times", he said, "and it is not surprising that the desire to distill a decisive outcome in Durban is felt palpably every time we address African audiences and elsewhere in the world." Dr. Ping underlined the AU's commitment to provide any assistance for CAHOSCC and other levels of Africa's negotiations including the African Ministerial Council on the Environment (AMCEM) and the Group of African Negotiators. The AU, he emphasized, would continue to coordinate continent-wide climate and environment related programs.
Dr. Ping underlined the importance of the Conference of the Parties (COP17) at Durban, running from November 28th to December 9th. It must, he said, deliver a major step forward in international climate change negotiations. This is where "Africa should speak with one voice in articulating its demands". He pointed out that Africa had a very clear principle on the issue of the Kyoto protocol. It was eager to engage other actors "for the purpose of maintaining, or at the very least, salvaging the essence of the Kyoto protocol." This, he told journalists in the post-meeting press conference, would require engaging the key actors at Durban "in a very flexible manner." Dr. Ping emphasized the significance of climate change adaptation for Africa, and the importance of CAHOSCC's role in convincing those stakeholders who still held reservations to adopt the Copenhagen Climate Change Report. This would pave the way for progressive discussions and negotiations.
The meeting went on to consider the messages from the Special Session of the African Ministerial Council on the Environment held in September in Bamako, relating to effective participation by Africa at the Durban conference, COP17. CAHOSCC, of course, was established in 2009 by the AU Assembly of Heads of State and Government in order to spearhead a common African position on Climate Change and ensure Africa does speak with one voice in the global climate change negotiations. It began its work at Copenhagen with COP15, and continued it at Cancun, Mexico with COP16.
There has been growing concern about the likely outcome of Durban as the western world's financial crisis is leaving governments less inclined to make the needed cuts in greenhouse gases if this adds greater short-term costs to their economies. The next phase of commitment is intended to restrict carbon dioxide emissions in the atmosphere to a level that would keep any rise in global temperature below two degrees Celsius. At the last round of UN climate talks, Canada, Japan and Russia indicated they did not want to be part of this, and the UK is apparently lobbying for a postponement of any deal to 2020. The International Energy Agency, however, has warned that irreversible damage could occur within the next five years if action isn't taken now.
All this underlines the importance of adaptation which the Cancun talks finally agreed should be given the same priority as mitigation. The UN Framework Convention on Climate Change (UNFCCC) was adopted to help countries set up programs to reduce vulnerability and make them more resilient, to identify the most vulnerable states and establish methods to deal with loss and damage from climate change. An Adaptation Committee is to be set up to be the driver of adaptation within this framework and provide the advisory body. It is still hoped that this will become operational at the Durban meeting. An Adaptation Fund was also set up to finance adaptation projects in the vulnerable countries and it started disbursing money in 2010. However, the funding required remains a major and ongoing concern though estimates vary widely. The UNFCCC suggests the poor countries will need between US$28 and 59 billion for adaptation by 2030; the World Bank estimates are between US$20 and 100 billion a year; the European Union Commission thinks US$10-20 billion a year will be needed by 2020, while the African Group of Climate Change Negotiators think more than US$67 billion a year will be needed by 2020.
*****************
——————————————————————————–
Eritrea only sees a lengthening list of enemies
The hysteria of Eritrea's leaders over what they claim is unfair treatment by the international community has reached new levels. While the mountain of evidence pointing to Eritrea's continued support to extremists in the region increases almost daily, the leaders of the regime in Asmara are still making frantic efforts to deflect the international community's attention away from their destabilizing activities.
The regime's response to Kenya's latest allegations that Eritrea is still actively involved in supporting Al-Shabaab has been particularly telling as a demonstration of the extent to which the regime is prepared to go to deny any responsibility for wrongdoing even when caught red-handed. According to the Ministry of Foreign Affairs of Eritrea, Kenya's allegation was not only regrettable but it was also a move concocted by Eritrea's erstwhile foes, notably Ethiopia and the US. With regard to the specific claim that plane loads of arms were delivered to Al-Shabaab in Baidoa, Eritrea's ambassador to Kenya squarely denied it. He also repeated the regime's customary claim blaming Ethiopia for being behind Kenya's allegations, and according to the Ambassador, the allegations are "lies that Ethiopia has been propagating." He even goes as far as to make the claim, rather bizarre even by Eritrea's standards, that "even the Al-Shabaab are a creation of Ethiopia which has for several years tried to destabilize our country."
It is difficult to know what to make of this allegation but it certainly reflects muddled thinking by the official making the statement. It's a clear indication of the level of desperation the regime has reached in its efforts to shift the blame to others. The Ambassador's effort seems as much an attempt to curry favor with the Kenyans as to drive a wedge between IGAD members who are collectively calling on the international community to tighten sanctions on the regime in Asmara. The aim appears to be to find another way of dividing the supporters of sanctions and some possibility to avoid their tightening. Given the unanimity of IGAD over sanctions, it seems rather naïve to think that any such strategy might work, but this is a regime which never appears embarrassed by any of its own actions.
One example indeed is hearing an Ambassador of a regime that has long prided itself on its total 'opposition to external intervention in Somalia" reiterating his government's support for Kenya's right to "pursue Al-Shabaab." This may sound like a principled position born of conviction – except that it is certainly not that. Indeed, the Eritrean official also complained that Kenya hadn't consulted Eritrea before deciding to pursue Al-Shabaab inside Somalia. It isn't entirely clear if the Eritrean regime seriously believes Kenya should have secured President Isaias' approval to protect its own legitimate interests in Somalia. Nor is it clear whether the Ambassador's complaint is really a Freudian slip admitting to Eritrea's own continued relationship with extremists in Somalia. Whatever the Ambassador meant, he also made sure he added the usual allegation that Ethiopia "never wanted to see a stable neighbor" in Somalia, following this by asserting that Kenya's claims were part of "Ethiopia's bogus propaganda against Eritrea." Ethiopia, the Ambassador claimed, "even invaded Eritrea in 1998." What is really interesting about all this, perhaps, is that while the Ambassador was bending over backwards to try to convince the Kenyan officials that his government would support any move by Kenya against "the criminal Al-Shabaab", he was still flaunting his government's arrogant claim that Kenya was simply following somebody else's orders in intervening in Somalia. In effect, the Eritrean Ambassador was denying that Kenya was even entitled to defend its own interests. That's vintage Asmara.
Meanwhile, last weekend the Eritrean Ministry of Foreign Affairs issued a press release furiously attacking Nigeria and Gabon for sponsoring the draft UN Security Council resolution for increased sanctions against Eritrea. As the regime makes clear in its derisory comments on Nigeria and Gabon it is always ready to attack any one that appears to be critical of its activities, and the main thrust of the Ministry's press release was that the two countries could not speak for Africa in presenting the case for sanctions. It also accused the two countries of following a "procedurally defective" path that sidelined the AU, insinuating that Gabon and Nigeria are tabling the draft "on behalf of Africa" without being "mandated by the AU." The Ministry statement claimed the AU ruled out sanctions against Eritrea in its summit in Malabo. It didn't, and it might be added that Eritrea's officials continue to misrepresent the fact that the UN Security Council's original resolution on sanctions was in fact requested by the AU.
The Security Council adopted Resolution 1907 imposing targeted sanctions on the government of Eritrea and selected officials of Eritrea for their support of extremists in Somalia and for the forcible occupation of Djibouti territory as well as for their activities of destabilization in the region as a whole. The council demanded that Eritrea implement the decisions and established a team to monitor the implementation of its decision. The UN Security Council's decision was unprecedented in that it was passed after the African Union had unanimously passed a resolution requesting the Security Council to impose sanctions against the Eritrean regime. While the Security Council has at various times passed sanctions and resolutions against various member states of the AU, only Resolution 1907 has been passed as the result of a unanimous recommendation by the African Union. Indeed, the AU has never previously recommended a member state to be sanctioned by the UN Security Council, nor has it done so since.
The AU made this unprecedented recommendation essentially because of Eritrea's continued destabilization of the region as a whole. It was this specific activity that the AU wanted to see resolved. Once the UN Security Council took up the issue and imposed sanctions, it was the UN which followed up events, and made any necessary adjustments to its decisions. It was, of course, the UN Security Council, not the AU, who established the UN Monitoring Group, the sanctions monitoring team.
Prior to the latest report of the Monitoring Team, the victims of the destabilization activities of the Eritrean regime, met through their regional organization IGAD. They reviewed the activities of Eritrea and then appealed to the UN Security Council to tighten the sanctions precisely because this was a matter for the UN Security Council and not for the African Union. A few days before the IGAD Summit met, the AU had held its own Summit in Malabo. It did not, and could not, have raised the issue of Eritrea's destabilization of the region because it had already pronounced itself on the matter and made its request for sanctions to the UN Security Council. However, it did raise the unresolved border issue between Eritrea and Ethiopia, calling on both countries to resolve the problem through dialogue. This, of course, is precisely what Ethiopia has been asking for in regard to the border dispute for the last seven years.
In other words, Eritrea's claim that IGAD's call to the UN Security Council to tighten sanctions, and Gabon and Nigeria's decision to table a draft resolution, is contrary to AU's decisions in Malabo is completely untrue. The AU did not raise the issue at Malabo. There is only one way by which Eritrea can escape the tightening of UN Security Council sanctions. It must come clean about all of its destabilization activities in the region, clearly and publicly commit itself to immediately stop all of these activities and present a credible plan and timeline to implement this change in policy. Nothing less will be acceptable, and certainly not its attempts to lie its way out of the corner into which it is now being squeezed.
*****************
——————————————————————————–
"A form of extortion" – Eritrea's 2% Diaspora tax.
As has frequently been noted, serious concern has been expressed that profits generated by the mining sector in Eritrea are being obtained by "slave labor", and that this is being used exclusively in support of the regime's continued efforts at regional destabilization. This is one reason why IGAD has unanimously called for an extended sanctions regime against Eritrea. The evidence has been provided in the detail of the reports of the UN Monitoring Group, and in the wealth of other evidence available to IGAD member states which have suffered from Eritrean activity.
Of course, concern has been raised about the humanitarian impact of a sanctions regime. This is a concern Ethiopia, in particular, shares. It is Eritrea's neighbor, and it currently hosts over 60,000 refugees from Eritrea, more than 10,000 of whom are soldiers. Numbers are rising at the rate of over 12,000 a year, with as many more crossing into Sudan. It is worth remembering exactly why these people have chosen to take the difficult and dangerous step of turning their back on their own country and crossing a border which has been heavily mined to prevent people leaving and along which Eritrean border guards have shoot-to-kill orders. It might also be added that the government and people of Ethiopia take their responsibility to these refugees seriously. Indeed, despite Ethiopia's own limited resources, a thousand of them are now attending Ethiopian universities on free scholarships.
Ethiopia would not do anything that exacerbates the problems of the people of Eritrea. That is why it has been pleased to note that any suggested sanctions regime should be carefully drawn up to target those individuals who are specifically responsible for the actions of the regime and reduce the financial means at their disposal while minimizing the impact on the population at large. Private remittances are, of course, as they should be, exempt from sanctions.
The 2% Diaspora income tax on Eritreans and foreign nationals of Eritrean origin living abroad, however, is another matter. This is demanded directly from Eritreans themselves and any money raised goes directly to provide additional resources for the "irregular financial practices" that the UN Monitoring Group identified as combining "with direct financial contributions from ruling party supporters and some foreign states" to explain why a country as poor as Eritrea manages to support so many armed opposition groups across the region. The money is usually channeled through embassies and consulates or government and party organizations. According to the United Nations, as quoted in the Canadian media, it may violate the Vienna Convention on Consular Relations as in areas where Eritrea has no diplomatic or consular representation, "the tax is often collected informally by party agents or community activists", and their actions might in some circumstances be considered as "a form of extortion".
Many Eritreans have made it clear they would agree. This tax is not of course voluntary and any Eritreans living abroad who wish to visit Eritrea, or to apply for an Eritrean passport, are expected to be able to demonstrate that they have fulfilled a number of requirements visibly demonstrating loyalty to the regime. One of these requirements is payment of the "tax" on earnings which is charged on all Eritreans working overseas. This was first levied by the EPLF during the independence struggle in the 1970s and 1980s, but it was clearly seen as too useful to stop when independence was achieved. The normal demand is for 2% but it has at times risen sharply, even reaching 10% as it did after May 1998 when Eritrea invaded Ethiopia and launched the 1998-2000 war.
The basic demand has always been for a flat rate contribution based upon the income from any source in the country of work and however obtained. For example, even those on income support or unemployment benefit in the country in which they live, are expected to contribute the required percentage. There are no exceptions. At times, people who failed to pay their 'tax' or the other 'voluntary' contributions required have been put under considerable pressure to make sure they contributed sufficiently. Letters are sent to defaulters to tell them how and where to contribute; pro-government community groups offer to send people round to "collect" the expected demonstration of loyalty. Reports from Canada, and other countries, in fact say "tax-collectors" visit people at home and note those who don't pay. The information is sent to Asmara.
Eritrean embassies and consulates now provide a "Two per cent tax form" which provides spaces on which to list monthly and annual income going back to Eritrean independence or even earlier. There are columns to list the 2% tax payments and also for "Donations to national defense against Ethiopian invasion". There is even a line to say "I confirm the above information is true with my signature. I understand giving wrong information is punishable by law". The form also requires the name of the payee, of his father and of his grandfather.
The UN Monitoring Group Report notes that those who fail to pay may be refused passports or visas or denied entry into Eritrea despite their citizenship. There have been claims they may have property seized or find their family members living in Eritrea harassed. Recent media reports from Canada, quoting Eritreans living in Canada, confirmed these reports saying that those that fail to pay are "black-listed" by the government until they pay up. This can apparently mean more than a mere refusal to provide documentation. It can even mean that a family member is unable to access a bank account in Eritrea. There have even been reports that Eritrean expatriates visiting Eritrea have been prevented from leaving the country on grounds they have failed to pay the tax.
This insistence on payment of the additional 'tax' is one aspect of the way the Eritrean government does not accept the concept of citizenship as a right for all Eritreans, even for those born in Eritrea. It is carefully selective in its acceptance of potential citizens, making a direct link between loyalty, as demonstrated by the payment of 'tax', or by party membership, and the provision of government services within the state. Having voted in the independence referendum in April 1993 and acquired a referendum ID card is another acceptable test of loyalty. This was never formally made a requirement for Eritrean citizenship, but in October 1994 when President Isaias issued a presidential directive revoking the citizenship rights of Jehovah's Witnesses, he said they had "cancelled their nationality on their own volition by 'refusing' to participate in the referendum…".
There is, of course, no basis in international law to relate the provision of services for citizens in one country to the payment of tax on money earned and already taxed in another country. And as has been widely noted, not least by Eritreans themselves, the government's treatment of its nationals in terms of paying national service conscript workers aptly deserves the phrase "slave labor". This is not, of course, directly relevant to the central issue of Eritrea's contempt of international law and of the international community in its continued activities of regional destabilization. Eritrea's denials have not been accompanied by any evidence whatsoever of any change of policy. It is clear that strengthening the implementation of the previous United Nations Security Council Resolution, and imposing additional and concrete economic sanctions that deny the regime the resources to be able to continue with its destabilization and its support of terrorist activities are a necessary way forward. Failure to do so will certainly send the wrong signal that, when it comes to Eritrea, international norms of behavior somehow do not apply. That will be a travesty of justice. It will also be a slap in the face of people throughout the region, including the people of Eritrea who suffer most from the actions of their government.
*****************
——————————————————————————–
News and Views
An Irish Parliamentary visit
A delegation from the Irish Parliament's Committee on Foreign Affairs and Trade has been on a five day visit to Ethiopia this week. It is headed by committee chair, Pat Breen from the Fine Gael party, and includes MPs from other parties as well as Senator Lorraine Higgins. The committee has responsibility for the parliamentary oversight of programmes run by Irish Aid, the Government's overseas aid department. Irish Aid's budget for aid to Ethiopia for 2011 amounts to Euros 25.7 million. Its visit will aim to assess the effectiveness of Irish development assistance to Ethiopia. One of the members noted that people had questions over the scale and effectiveness of aid programmes in the current economic climate and "there is a need to ensure monies are well spent." During their visit the delegation met Prime Minister Meles and members of Ethiopia's House of Representatives, officials, and opposition figures as well as representatives of Irish NGOs working in Ethiopia, among them Concern, Trocaire and Goal. The delegation will be visiting Tigrai Regional State where Irish Aid has been working since 1994 and also visit a refugee camp for people who have fled fighting in Sudan's Blue Nile State. Chairman, Pat Breen, noted that Ethiopia had made considerable progress in recent years, and the figures demonstrated the benefits of effective and strategic development policies, though he added that the country continued to face a number of challenges.
******
——————————————————————————–
An Egyptian business delegation in Ethiopia
A twenty-five person Egyptian delegation arrived in Addis Ababa on Friday last week for a five day working visit. Egypt's Ambassador, Mohamed Fathi Ahmed Edrees said the delegation had come to discuss ways to enable Egyptian companies to invest in Ethiopia. A particular interest was Ethiopia's chemical and fertilizer manufacturing capacity. Ethiopia currently exports chemicals worth about a billion US dollars. Under the Growth and Transformation Plan Ethiopia intends to increase fertilizer production significantly. Ambassador Edrees said Egyptian investment would help to further strengthen the friendship between the two countries. Increasing economic ties was an important element in the new relationship being forged between Ethiopia and Egypt, and the Ambassador noted that Egypt would like to forge bilateral trade agreements with Ethiopia. Ethiopia is becoming an important trade destination for Egypt and a significant part of the process of forming of regional economic relations launched by the new Egyptian government. The current visit aims to create a basis for increasing business relations and expand the cultivation of a network of current interests.
******
——————————————————————————–
Food security programmes open to all
An article in the UK's Guardian newspaper this week drew attention to the effectiveness of the Productive Safety Net Programme (PSNP) which provides food and cash to vulnerable families for work on public projects. The PSNP started in 2005 and provides for predictable transfers of support to food-insecure households thorough a public works programme or by direct transfers to those unable to work. The programme is managed by the Ministry of Agriculture and this year it was implemented in 305 woredas. 6.5 million PSNP participants this year are involved in public works, and another 1.5 million will be getting direct support. The article mentioned Human Rights Watch claim that opposition supporters were excluded from the programme but pointed out that others, including the prestigious Overseas Development Institute, said they could find no significant evidence that communities or areas were being excluded for voting against the ruling party. Certainly there was no indication of persuasive or systematic political use of PSNP whatever HRW might claim. "The US and international development officials generally credit the government for having put in place an early warning system and the safety net programme which seems to have served the country well in this current drought." The article quoted the deputy head of food security and early warning systems, Ato Tadesse Bekele: "Nobody has died because of a lack of food [in the current drought]. I hear these stories, but I do not see this when I am on the ground. No one would say to someone you are from the opposition, you can't get food. The community would not allow this to happen. There are places where there are people who support the opposition, but food is reaching them."
******
——————————————————————————–
Time for another BBC apology?
The original allegations of the political use of food aid were made by Human Rights Watch last year. They were immediately and firmly denied by the Donor Assistance Group of 26 bilateral and multilateral development agencies, and all NGOs involved in food assistance programmes. Despite this the allegation was repeated in a joint BBC Newsnight and Bureau of Investigative Journalism programme in August. Newsnight also subsequently interviewed the UK's Secretary for State for International Development, Mr. Andrew Mitchell who was then accused by HRW of being "disingenuous and misleading". As we have noted before, Mr. Mitchell in comprehensively denying the allegations emphasized that field visits by UK officials and by officials of dozens of other donor agencies made it quite clear there was no systemic distortion of aid distribution for political reasons. A subsequent independent journalistic investigation in the same area on which the BBC programme was based has produced serious questions over the BBC's reporting. The death certificate of a woman the BBC reported had died of chronic hunger showed she actually died of cancer. Interviews with a cross-section of the inhabitants, including both government officials and opposition party members, including the same people featured in the BBC programme, raised major doubts about the accuracy of the reporting. Not the least of the problems was the way a report based on a clandestine visit to a few villages could be wildly extended to suggest such allegations covered the country. Indeed, the investigation essentially revealed the BBC investigation should be classified as no more than a hoax.
******
——————————————————————————–
South West Energy favoured for concession in Gambella Regional State
The Ministry of Mines has confirmed that it has recommended South West Energy, an Ethiopian company registered in Hong Kong, to the Council of Ministers to take over the concession formerly held by the Malaysian Company Petronas in Gambella Regional State. The 17,500 square kilometre oil exploration concession was abandoned in 2009 by Petronas after it had drilled two dry wells. The Gambella Basin is an extension of the Melut Basin in South Sudan. The other concessions held by Petronas were in the Somali Regional State and they were all acquired at auction by Petro Trans, a Hong Kong based Chinese company. Once the Council of Ministers has agreed, the Ministry of Mines will sign a Petroleum Production Sharing Agreement with South West Energy covering the details of obligations and costs on the company over the life of the agreement. There are a number of international companies which have entered into PPSA agreements including Pexico Exploration, a Malaysia based company, and Africa Oil East Africa, registered in the Netherlands, in the Ogaden Basin, and Epsilon Energy Limited and Falcon Petroleum Limited which are exploring blocks in north-western and central parts of the country.
******
——————————————————————————–
Ethiopia to join the International Renewable Energy Agency
A bill to ratify Ethiopia's membership of the International Renewable Energy Agency (IRENA) has been tabled in the House of Representatives and has been sent to the House Standing Committee for Natural Resource and Environmental Protection Affairs for further review. The International Renewable Energy Agency was set up nearly three years ago at a meeting in Germany. 75 countries signed the Statute at the Founding Conference, and currently the European Union and 148 countries are signatories and 84 States and European Union are members of the Agency. IRENA has its headquarters in the UAE and research and development facilities in Bonn, in Germany. The aim is to increase research into renewable energy and projects which might support it. It will facilitate access to all relevant renewable energy information, including technical data, economic data and renewable resource potential data, and share experiences on best practices and lessons learned regarding policy frameworks, capacity-building projects, available finance mechanisms and renewable energy related energy efficiency measures. Renewable energy is one of the key solutions to the current challenges facing the world's energy future. Current use, however, is still limited despite the vast potential. Obstacles include tariffs on imports, technical barriers, insecure financing for renewable energy projects, and insufficient awareness of the opportunities. This is where IRENA plays a role. One of its major tasks is intended to be the development of comprehensive solutions to the challenges, to foster all types of renewable energy and consider renewable energy policies at local, regional, and national levels, taking into consideration specific environmental, economic, and socio-cultural conditions. Benefits of membership will therefore include the availability of technological transfer and capacity building support as well as making it easier to find finance and investment for renewable energy projects. Ethiopia can also expect to gain from policy discussions and debates and experience sharing in such areas as wind farms and geothermal possibilities as well as all other aspects of "green" energy.
*****************
——————————————————————————–
Federal Democratic Republic of Ethiopia
Ministry of Foreign Affairs