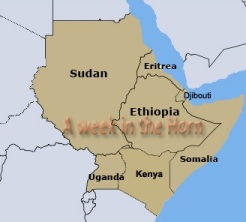 President Girma opens the new session of Parliament
Prime Minister Meles visits Norway and Denmark
The visit of Nigeria's President to Ethiopia
A huge anti-Shabaab rally in Mogadishu as AMISOM advances
Increased sugar projects do benefit all
Eritrea accuses the world of jamming its 'truth-serving' media
——————————————————————————–
President Girma opens the new session of Parliament
On Monday, President Girma Wolde-Giorgis opened the new Parliamentary session, addressing a joint meeting of the House of Peoples' Representatives and the House of Federation. Noting that it had been just over a year since the Growth and Transformation Plan has been launched, he said its ambitious targets were based on lessons drawn from recent successes and had been encouraged by the enthusiastic mobilization of the peoples of Ethiopia behind the cause of development. In its first year growth had reached 11.4% and this, the President said, had been sufficient to make Ethiopia one of the fastest growing economies in the world. It was a testament to government's mix of policies that it had been achieved at a time of worsening global economic crisis and increased escalation in commodity prices.
It had been these, together with the inefficiency of Ethiopia's market system, its susceptibility to unjust practices and the excessive growth of money supply, which had led to an intolerable increase in inflation. To maintain the single digit rate of inflation as envisaged in the Growth and Transformation Plan, the government was now taking steps to control the money supply. It would refrain from borrowing from the National Bank this fiscal year. It would properly utilize the increased foreign currency reserves from increased exports. It was taking steps to improve the efficiency of the trading system. Setting a price cap on a number of commodities had failed. The government had therefore imported some basic commodities and put in place a new system for wholesale trading and distribution. It would now continue to ensure efficiency and fairness in the supply and distribution of commodities.
The President noted that during the last year the government made a concerted effort to improve the nation's tax system putting in place new registration regulations to broaden the tax base together with adjustments on tax assessment. Tax revenue had provided 11.4 per cent of GDP in the last fiscal year. This was still lower than many other countries in Africa and the government would continue to exert maximum efforts to modernize the tax administration and deal with illegal or unlawful practices.
The President said that the last year has seen the worst drought in more than sixty years in the Horn of Africa. Pastoralist areas had been seriously affected, but the spectre of famine had been averted by recent development efforts and the concerted efforts of the government to prevent loss of life or property. It had provided emergency food aid drawn from the country's strategic grain reserves, assisted by additional purchases and by the efforts of donors. Fodder and water had been provided for livestock. These efforts had been successful in limiting the damage of the drought.
Agriculture, industry and the service sector, with respective growth rates of 9%, 15% and 12.6%, had contributed significantly to the overall GDP growth. Continuing double digit growth had been achieved, said the President, by the efforts of the government to implement policies effectively and through the efforts of the entire rural population in participating in conservation and development related activities. Hundreds of thousands of hectares of hills were now covered with plantations and terracing. There had been impressive efforts to increase household farm productivity, and to promote irrigation and animal husbandry. Private sector involvement in modern farming showed significant progress.
Another area of success had been in the expansion of micro and small enterprises. Targeted studies were undertaken to identify and solve the challenges these faced in both rural and urban areas, and preparations were now ready to scale up their development and raise productivity and financial capacity. The government had also worked to promote basic infrastructures and selected industries of strategic importance to start the transformation of an agrarian economy into an industry-led one.
The President noted that special emphasis is being put on development of the road and railway network, on telecommunications and energy, the expansion of potable water services and of educational institutions. Some of this, including sugar and fertilizer production, could be done without assistance, and preparations had already been made to launch the plantations and factories in different areas with the active involvement of the Metals and Engineering Technology Corporation. Other activities, including the building of railways, hydropower dams and electro-mechanical equipment manufacture needed technological transfer. The government was working on this and making successful efforts to raise the required finance.
The President also spoke of the popular wave of enthusiasm and mobilization generated by the launch of the Grand Ethiopian Renaissance Dam. Ethiopians from all walks of life had expressed their support to the project, a confirmation that the country's development was being nurtured by its own efforts and resources. He thanked all those who had contributed all they could to what he called a "grand and ambitious project". He assured his listeners that the government would redouble its efforts to see that the Renaissance Dam and all the projects already launched would be duly completed, and on time. He added that other major projects of infrastructural development and industrial expansion would not be forgotten.
The President emphasized that recent successes had not been limited to the economic sector: the level of progress in social development was equally encouraging. The government was doing its best to ensure the Millennium Development Goals were achieved, with impressive developments in the number and ratio of children going to school, in the quality of education and in the expansion of higher education and vocational training. There had been comparable progress in preventive health and this had been recognized by the choice of Ethiopia to host the International Conference on Sexually Transmitted Diseases and AIDS (ICASA) in November. More than ten thousand participants from around the world would be attending.
The President also spoke of progress in the political arena, of the efforts to ensure fullest protection of individual and group rights defined in the Constitution, and the activities undertaken to strengthen institutions of democracy and good governance. The government had carried out activities to broaden political space and build a society on the basis of a spirit of national unity and tolerance. It continued to protect and respect the constitutional provisions for citizens to exercise their freedom of expression and their right to assembly in pursuit of social and political interests, irrespective of any political differences. The success of this could be seen in the activities in support of the Renaissance Dam. At the same time, the President emphasized the need to redouble efforts to remove backward and reactionary tendencies and strengthen democratization and good governance.
The President also spoke of the importance of maintaining peace and stability, noting the danger of the challenge from Eritrea. Despite its total failure to destabilize Ethiopia through support for Al-Shabaab in Somalia, the Eritrean regime, he said, had repeatedly plotted to cause trouble by recruiting Ethiopians for its terrorist campaign. January's plot "to turn Addis Ababa into Baghdad", foiled by the vigilance of the Ethiopian people and the security forces, was clear evidence of Eritrea's intentions. This was why the government had been making strenuous efforts, together with IGAD and the AU, to persuade the international community to take serious action against the regime in Asmara. These efforts would continue as long as the Eritrean regime persisted in its activities. The President took the opportunity to appeal to "those misguided political leaders" who had chosen to do Eritrea's bidding, to reconsider and join in the legitimate political process.
The President emphasized that, as always, Ethiopia's diplomatic relations were based on mutual respect and the promotion of mutual benefit and interest. A notable example was the efforts to improve relations with the Lower Nile Riparian countries and particularly with Egypt with reference to the Renaissance Dam. Ethiopia sincerely believed the Nile waters, equitably used, were sufficient to meet the needs of all. The focus on a win-win approach had, he said, begun to bear fruit, and the recent inauguration of the Ethiopia-Djibouti power transmission line was a testament to these aims. The government would be taking steps to make sure this constructive and civilized approach would continue to inform all its relations in the coming year.
The President stressed that the journey that had begun with the objective of achieving Ethiopia's Renaissance through fundamental political and economic reform had already shown clear and significant progress. Ethiopia had achieved meaningful results despite occasional challenges. The country could, he said, be confident that with the right resolve and commitment nothing would stand in the way of achieving its Renaissance. The President said it was his firm conviction that the Growth and Transformation Plan would be accomplished on schedule as long as people were committed to working hand in hand with the government and resolute in resisting any drawbacks to implementation.
In conclusion, the President extended his best wishes to the peoples of Ethiopia on the occasion of the Ethiopian New Year and expressed his desire that both Houses of Parliament would, along with the peoples of Ethiopia, be successful in all their efforts for achieving peace, democracy and development.
******************
——————————————————————————–
Prime Minister Meles visits Norway and Denmark
On Monday and Tuesday this week, Prime Minister Meles at the invitation of the Norwegian and Danish governments participated in two international green growth conferences in Oslo and Copenhagen. Others present included Kenyan Prime Minister, Raila Odinga. In Oslo, the conference was held under the title, "Energy for all, financing access for the poor," and the Prime Minister outlined Ethiopia's experience of public sector investment in infrastructure and the energy sector in particular. In his introductory statement, he also touched upon the importance of private sector financing in energy sector investment. He called upon the private sector to drop their unfounded notions of the risk of foreign companies investing in the developing world in this sector. On a panel discussion in which he also participated, the Prime Minster highlighted the pillars of Ethiopia's plans for a green economy. It was working to increase its clean renewable energy supplies five-fold in the next five years, and moving towards a target of zero carbon emissions by 2025. Ethiopia is a supporter of Norway's newly launched Energy + initiative which is aimed at establishing a financing framework to provide widespread energy access for developing countries. Norwegian Prime Minister Stoltenberg said the initiative addresses the two main challenges of alleviating poverty and climate change – developing renewable energy sources would promote economic growth while also cutting carbon dioxide emissions.
In Copenhagen, on Tuesday October 11th, where Prime Minister Meles attended another international conference, the "Global Green Growth Forum," the emphasis was on spurring green growth by exploring, demonstrating and stimulating public-private sector collaboration. The Prime Minister outlined Ethiopia's national action for green growth and once again spoke of the importance of the role of the public sector in achieving a green economy and the vital contribution that the private sector also provided. Green growth, he said, was not a matter of choice but a matter of necessity for Africa. Power provision was about ensuring social justice. Africa's failure to achieve this as yet had been caused by the problems of finance, infrastructure and capacity. The two conferences drew attention to the fact that some 1.4 billion people around the world are devoid of electricity and another 2.7 billion use harmful traditional energy sources.
In both countries, Prime Minister Meles also met and held bilateral discussions with high-level officials of both governments. In Oslo, the Prime Minister held meetings with the Norwegian Crown Prince, Prince Haakon, with Prime Minister Jens Stoltenberg and with the Environment and International Cooperation Minister, Eric Solheim. He gave interviews to the Norwegian News Agency and the Aftenposten daily newspaper. The Prime Minister also had a meeting with top officials of the YARA Company, a world renowned Norwegian company in fertilizer production, and held a round table discussion with a number of Norwegian companies involved in the energy sector.
In Copenhagen, Prime Minister Meles had an audience with the Queen of Denmark, Queen Margrethe II, and held bilateral discussions with the new Danish Prime Minister, Helle Thorning Schmidt, with Foreign Minister, Villy Sovndal, and with Christan Friis Bach, the Danish Minister for Development Cooperation.
It is anticipated that these bilateral encounters in both Oslo and Copenhagen will open new avenues of cooperation with both Norway and Denmark in the energy sector in particular and also in areas of environmental protection, as well as helping Ethiopia achieve the goal of having a green economy in the near future..
*****************
——————————————————————————–
The visit of Nigeria's President to Ethiopia
Dr. Goodluck Ebele Jonathan, President of the Federal Republic of Nigeria, paid an official visit to Ethiopia on Thursday and Friday last week, October 6th-7th. He was on a tour of three countries, Rwanda, Ethiopia and Ghana and was accompanied by a number of ministers, special advisers and the investor, Al Haj Aliko Dangote. The delegation was greeted at Bole International airport by the Speaker of the House of People's Representatives, Ato Abadula Gemeda, Dr. Jean Ping, Chairperson of the African Union Commission, Ambassadors and Nigerian nationals residing in Addis Ababa.
During his visit, President Jonathan and Prime Minister Meles held extensive discussions at the National Palace on issues of mutual concern. Particular emphasis was placed on political and economic matters in general and on the affairs of the Horn of Africa, Sudan and South Sudan, Libya and the role of Africa at G8 and G20 meetings.
Prime Minister Meles said subsequently at a press conference that President Jonathan's visit was aimed at building on current cordial bi-lateral relations and at taking the existing relationship forward. President Jonathan noted that the two sides had discussed closer links between Ethiopian and Nigerian airlines through expanding operations and increasing flight frequencies. The two leaders called on the private sector to play a prominent role by contributing to the very real endeavours of both countries to register rapid economic growth. In their final communiqué they agreed to co-operate specifically in areas of power, energy, aviation, tourism and mining.
Both sides expressed their solidarity on issues of common concern in Africa and reaffirmed their commitment to work together to strengthen the African Union and more specifically its peace and security architecture, as well as Africa's socio-economic programs. The two leaders welcomed the recognition of the National Transitional Council of Libya and urged the NTC to form an inclusive government, and to guarantee the safety of African migrants in Libya.
Prime Minister Meles said how much he appreciated the close consultation between the two countries at continental and global level. He underlined the constructive role being played by Nigeria, and Gabon, as non-permanent members of the United Nations Security Council. Both President Jonathan and Prime Minister Meles emphasized that they welcomed the findings of the United Nations Monitoring Group on Somalia and Eritrea. They strongly condemned terrorism in all its forms and underlined their commitment to fight this common threat to humanity.
******************
——————————————————————————–
A huge anti-Shabaab rally in Mogadishu as AMISOM advances
On Saturday, October 8th, Mogadishu's largest market, the Bakhara market, was officially re-opened by President Sheikh Sharif. It had been closed since AMISOM and TFG forces forced Al-Shabaab to withdraw most of its fighters from the city in August. According to report, the President urged businessmen and residents attending the official reopening ceremony to collaborate with the security forces. Traders and families have begun moving back into the area in an effort to rebuild their lives. The same day a mass rally was held in the former soccer stadium to denounce Al-Shabaab for last week's suicide bombing in which over a hundred people died, many of them students. Thousands attended one of the city's largest rallies for years. "Should we abandon our country because of fugitive criminals from abroad and children who have disobeyed their parents", President Sheikh Sharif asked? "The answer", he added, "is no." He urged the crowd to work together with government forces and promised government action against Al-Shabaab soon.
In fact AMISOM and TFG forces launched an offensive the next day to eliminate the last remnants of Al-Shabaab from any key positions in the city. After some hard fighting, n Monday they successfully took over the former pasta factory, two key junctions and two districts in the north east of the city. According to AMISOM spokesperson, Lt.-Colonel Paddy Ankunda, the pasta factory has been an operational hub for the extremists to shell civilian targets in the city. The operations had been "intended to save the lives of people who have returned to their homes", he said. The outer areas of the northern and eastern edges of Mogadishu had still to be cleared but "key ground and buildings are no longer under the control of extremists". Before the assault, AMISOM commanders suggested Al-Shabaab had some 300 fighters left in the city including expert foreign snipers. Predictably, as on previous occasions, after it had been driven out of the pasta factory, Al-Shabaab unconvincingly claimed it had carried out a tactical withdrawal from the area.
AMISOM and the TFG successes, and the critical humanitarian situation in areas controlled by Al-Shabaab in the south of the country, have again led to suggestions that it might be time to talk to Al-Shabaab. President Sheikh Sharif, however, has said that the problem is that Al-Shabaab does not believe in law and order, it did not have any agenda for taking part in the development of the country. There was an amnesty for Al-Shabaab members who embraced peace but the question was whether the leadership was ready to embrace peace and join the peace process. Negotiating with Al-Shabaab would not be a problem for the TFG but Al-Shabaab took orders from outside the country, from Al Qaeda, so they couldn't negotiate for themselves. However, the President told foreign journalists that "we will always be happy to welcome them in the peace process." Others are less certain. Sheikh Nur Baarud, a member of the Somali Ulamaa Council in Mogadishu which has been trying to open up dialogue between the TFG and Al-Shabaab for a couple of years, was quoted by IRIN as saying Al-Shabaab had continuously refused. In any case, "after what they did on October 4th [the suicide bombing last week] I don't see anything to talk about. No one who has a basic understanding of Islam could carry out what they did. They are beyond Islam and beyond humanity."
In fact, of course, some discussions have been going on between international organizations and Al-Shabaab over access and delivery of humanitarian aid. Mark Bowden, the UN Humanitarian Coordinator for Somalia, points out that most of the people in the most desperate need are living in areas controlled by Al-Shabaab. Some humanitarian actors have been able to save lives in those areas. So, he stresses, since the goal is to reach those in need wherever they may be, "we have the responsibility to talk and discuss with whoever will give us access to people in crisis."
Meanwhile, the Kenyan authorities have been tightening up security along Kenya's border with Somalia. Kenya is establishing extra patrol bases following the recent kidnapping of two tourists in Lamu, and last week, the government also set up a central command to co-ordinate security operations along the Kenya-Somali border, reinforcing its forces along parts of the border which is officially closed. These moves came as there were reports of large numbers of Al-Shabaab fighters moving towards the town of Dhobley, five kilometers inside Somalia. The town is held by pro-TFG government militias.
******************
——————————————————————————–
Increased sugar projects do benefit all
Driven by the government's determination to defeat poverty, the favorable climate, fertile soil and water resources have brought about significant improvements in every aspect of life in Ethiopia. This has been coupled with significant improvement in the government's capacity to respond to emergency situations as the domestic response to the current food crisis has shown. The country's national emergency food reserve has been built up to 400,000 tons a year following the implementation of programs to boost agricultural and industrial productivity. Priority has been given, and continues to be given, to smallholder farmers, with better access to improved farming methods, better seed and fertilizer at the center of government agricultural packages. Medium scale farms devoted to floriculture and horticulture, as well as large scale agricultural investments by both domestic and foreign investors have also received considerable emphasis. Most recently, the government has put in place an ambitious five-year Growth and Transformation Plan which aims to produce annual economic growth of as much as 14.9 percent. Agriculture will have the biggest share in achieving this.
By the end of the GTP, the government has planned to double agricultural productivity and to have increased the emergency food reserve to 3 million tons. The aim is to have the country achieve self-sufficiency in food. One element of the detailed plan for agricultural products includes a target for sugar production by 2020 which will be equivalent to 2.5% of the world's sugar demand. The aim is that Ethiopia should become one of the world's ten biggest exporters of sugar during the next fifteen years. To realize this, a Sugar Corporation has been set up, and ten new sugar factories are being constructed in different regions at a projected cost of around 80 billion birr ($4.6 billion). Ethiopia is not self sufficient in sugar at the moment. It imported 150,000 metric tons last year. The completion of the ten new factories will allow self-sufficiency in sugar by the end of 2013, and production is then planned to grow eightfold by mid-2015 to 2.3 million tons, leaving a surplus for export of 1.25 million tons.
These projects are under construction in Beles in the central Amhara region; Wolkait in the Tigray area; Kesem in the north-eastern Afar regional state; and in the South Omo Zone of the Southern Nations Nationalities and Peoples' region which has a particularly sparse population and displacement of people will be minimal. Substitute plots of land, equal to previous holdings in size but better in terms of fertility and accessibility to basic public services, as well as proportional compensation for lost property or earnings will be given to anybody displaced. The completed projects will create a huge number of job opportunities, and benefit members of the respective local communities socially, economically and culturally. They will have access to irrigated land, improved social services, support from agricultural experts and job opportunities. It is hardly surprising that the local communities have welcomed these projects and are unanimous in their support for these schemes.
There are, however, others who do not welcome these developments, notably external 'activist' organizations like 'Survival International' and 'International Rivers' who continue to publicize their opposition to these and similar projects. They claim that the sugar projects "will involve the displacement of hundreds of thousands of people"; that they "will spell ecological collapse and hunger for indigenous people"; that "tens of thousands of workers" will be moved into the areas from outside, meaning the projects will not create job opportunities for the local communities; that "pastoralists will have to abandon their way of life to work on the planned sugar cane plantations", and so on. None of these claims are true, nor do they reflect either the facts on the ground or the steps that are being taken to implement the projects. The claims of 'Survival International' and 'International Rivers' and similar organizations are simply wrong. Nor do the projects themselves actually deserve these sorts of attack as any actual examination of their proposed operations will confirm.
These claims of course also contradict current UN and EU views regarding the future focus of aid for food vulnerable countries. Donors, in discussions at the UN General Assembly and in the EU Parliament, have made their support quite clear for the encouragement of long-term agricultural investment in countries vulnerable to drought and food insecurity. There is wide-spread agreement that this is the best way to help such countries boost food security and raise incomes, build sustainable infrastructure and augment local markets. Donor countries are being asked to concentrate more on providing strengthened financial, technical and political support to drought affected and food insecure countries including those in the Horn of Africa, Somalia, Eritrea, Ethiopia, Kenya and Djibouti to boost agricultural production. The calls by 'Survival International' and 'International Rivers' seem opposed to any such ideas, proposing policies that effectively will encourage these countries to continue to suffer from food shortages and prevent such developments as increased provision of health and education.
It is in this sense that 'International Rivers' and 'Survival International' have been prominent in campaigning against the Gilgel Gibe III dam on the Omo, claiming it will prevent the natural flooding on which the local people depend for agriculture. This ignores the fact that the dam will actually regulate annual flooding, and prevent the excessive floods which, for example, killed over 400 people and thousands of animals only five years ago. It also ignores the benefits that the dam will bring in terms of development and allow for the first time significant educational, health and social improvements, not least the provision of electricity and power to those in the valley. It is certainly true that Gilgel Gibe III will change the lives of those in the lower Omo valley. It will at last provide the mechanism to lift them out of poverty and bring them into a more modern world. The aim of 'International Rivers' and other organizations appears to be to preserve 'local biodiversity' at the expense of the needs of those who actually live in the region. 'International Rivers' and 'Survival International' frankly seem to regard the inhabitants of the area as no more than a part of the eco-system, belonging to the natural kingdom rather than to human society. It has even been suggested that these organizations would like these populations to remain 'primitive and poor' to provide for 'research' as well as give them an agenda for raising funds.
There seems to be no meeting of minds on this. A recent Brookings Institute essay "Principles for Water and Development" underlined the point that "dams by many calculations have saved lives and supported a level of agricultural production not possible without them". It correctly notes that they do, of course, need to be based on objective Environmental and Social Impact Assessments. However, it also points out that when "competing politics, economics or lack of thought" comes into play so do double standards. Developed countries have a significant number of dams, many built fifty or more years ago on the basis of calculated risks, constructed at a time when scientific research hadn't reached present levels. That didn't prevent those dams from being built and continuing to operate today, as the benefits were thought to outweigh the risks and problems. Few today would be prepared to deny the wide range of benefits that those countries have enjoyed, and do still enjoy, from such constructions.
Yet, today when countries like Ethiopia want to follow the same path of development, it appears that such projects are persistently seen as having detrimental impacts, regardless, it might be noted, of what detailed scientific Environmental and Social Impact Assessments suggest. All too often groups like 'Survival International' or 'International Rivers' insist that rivers or bodies of water in poor nations must remain untouched for the sake of the insects and other aquatic life while the peoples around suffer hunger or thirst. No doubt 'Survival International' and others would say they can't make similar points about projects in their own countries because these occurred long ago and are now irreversible. That is hardly the point though in fact the construction of Gilgel Gibe III is over 50% complete with all calculated risks taken into account and the benefits to local and neighboring communities beginning to be seen.
There shouldn't be any confusion here. The methods of demonstrating whether such a dam is socially and environmentally acceptable and viable is beyond the capacity of self-appointed, small, biased groups like 'Survival International' and 'International Rivers'. It is certainly easier for such groups to collect and publicize hearsay claims and allegations than to try to evaluate objectively and scientifically these large scale development projects, built on solid environmental assessment and on nearly a decade of continuous economic growth. Ethiopia is determined to move its population out of poverty, to ensure the communities in the Omo valley no longer remain as "poor specimens for research" or as a useful agenda for fund raising to increase the credibility of 'activist organizations'.
*****************
——————————————————————————–
Eritrea accuses the world of jamming its 'truth-serving' media
The government of Eritrea and the Peoples Front for Democracy and Justice (PFDJ) never tire of producing drama after drama. With President Isaias' apparent volte-face in diplomacy in face of the threat of increased sanctions showing little effect, the regime has turned its focus on a media campaign loudly proclaiming that the President remains as defiant and as popular as ever, his diplomacy is bearing fruit, his support base is growing, the country has no drought and no food shortages and the economy, far from deteriorating as all the figures suggest, is actually growing.
Even more recently, Eritrea's Minister of Information has informed the Eritrean people that a concerted campaign is being waged by the international community, or more accurately the United States and its allies, to jam Eritrean media outlets, apparently in fear that Eri-TV – 'serving the truth' – will expose their lies before the world. The regime's overweening sense of grandeur is so great that it appears to believe that Eri-TV has a global reach that none of the world's major media outlets can match. And true to the regime's love for superlatives, Minister Ali Abdu in all seriousness told his audience that it took a major campaign by the great powers to jam the Eritrean media. Eritrea is simply too tough to be dealt with by just one great power. One might add that whatever the truth about the claims of the jamming of Eri-TV, here in Ethiopia it remains quite possible to watch Eri-TV if desired. No jamming has been apparent here.
In another recent PFDJ drama, the Eritrean regime's 'cabinet' has "approved a food aid package to Somalis affected by drought and famine." This is indeed surprising coming as it does from a nation which, according to the International Food Policy Research institute, is actually experiencing "extremely alarming" levels of hunger. It is particularly ironic to see a regime that has spent so much time and energy in efforts that have repeatedly worsened the situation in Somalia making apparent goodwill gestures to the very people so seriously affected by Eritrea's open and continuous support for extremists.
Minister Ali Abdu, for good measure added without a trace of irony that: "it is not about how much (aid) you give, it's about how much love you give with what you give". Eritrea, he said, is doing this "with deep affection … because we stand along [with] our Somali brothers and sisters to the bitter end". It is not clear who will receive Eritrea's food aid package on behalf of the people of Somalia. Eritrea, after all, still refuses to recognize the TFG as the legitimate government of Somalia.
Rather more worryingly, Minister Ali Abdu also promised that Asmara will continue to support efforts to help stabilize Somalia. That might suggest that the Eritrean government was finally prepared to heed the international community's call for a change of behaviour on the part of Eritrea, but the Minister's additional remarks make it clear this was not what he intended. "Eritrea", he said "has been supporting the Somali people to gain their sovereignty and to [reinstitute] public and government institutions, the territorial integrity of Somalia." He went on: "this is something we have been striving for the last 20 years and we have been consistent – and now, it is proven that our approach is the best approach."
It is not always clear what Minister Ali Abdu is driving at, and we have no way of knowing how Eritrea's approach to Somalia might be considered as the best approach. However, it is clear enough that Eritrea's 'consistent' position over the last decade or more is exactly the one that the international community has labelled as the policy of destabilization for the whole region. In the light of this 'consistency', it seems probable that Eritrea's aid package is likely to be delivered to Kismayo rather than Mogadishu, to Al-Shabaab rather than to the TFG.
Two things in fact are very clear. One is that Asmara has taken self-delusion to almost schizophrenic levels. It has created an alternate universe in which Eritrea has got it right in Somalia and the rest of the world is accused of getting it wrong and indeed of carrying out wrongdoing there. This, of course, is exactly at a time when the world is seriously considering tightening sanctions against the regime in Asmara. Secondly, whatever supposed diplomatic overtures and efforts the regime may have toyed with in recent weeks, it remains as determined as ever to continue with its destabilizing activities in the region. Indeed, if anything, the regime has made it quite clear it has no intention of mending its ways in the foreseeable future. That, of course, is why sanctions must be tightened and serious steps taken to control the foreign policy adventurism of President Isaias and of the regime in Asmara.
Minister Ali Abdu concluded his sermon by taking a leaf out of his president's book, warning the international community that it "should realize that the only way is to leave Somali people to decide their destiny and their own fate." Ironically, this of course is exactly what the international community has been telling Eritrea's leaders for years. As always, the regime in Asmara fails to see the irony or if it does, ignores it. Equally, conspicuously missing in everything said by the minister, the president or the regime is any indication, any suggestion, however faint, of a change in policy or of behaviour. All the indications are that he and Eritrea are fully prepared to remain armoured in the consistency of their own little alternative world.
*****************
——————————————————————————–
Federal Democratic Republic of Ethiopia
Ministry of Foreign Affairs