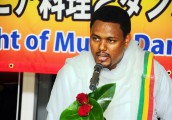 The Ethiopian Night Music, Dance and Cuisine 2012 of this year celebrated colorfully on Saturday with the theme of celebrating the longstanding Ethio-Japan Friendship and exchange in Tokyo.
Opening the Ethiopian Night, H.E Ambassador Markos Tekle, Ambassador Extraordinary and Plenipotentiary of the Federal Democratic Republic of Ethiopia to Japan said yearly celebration of the Ethiopian Night has become the venue in which cultural exchange between the two countries flourished. He pointed out the essential role of this event to further strengthen the relationship between Ethiopia and Japan. He seized this opportunity to brief participants of the event, Ambassadors of African countries, Diplomats, Diaspora members, Japanese and invited guests, the Ethiopian government efforts to reach middle income status by 2025, witnessing the impact of Japanese support in priority areas to alleviate poverty. He also noted that Ethiopia is one of the fastest growing economies in Africa and is luring foreign investors. Mr. Yoshiyuki Shimada, President of the Ethiopian Association of Japan noted that such events of cultural exchanges are crucial to strengthen the two countries.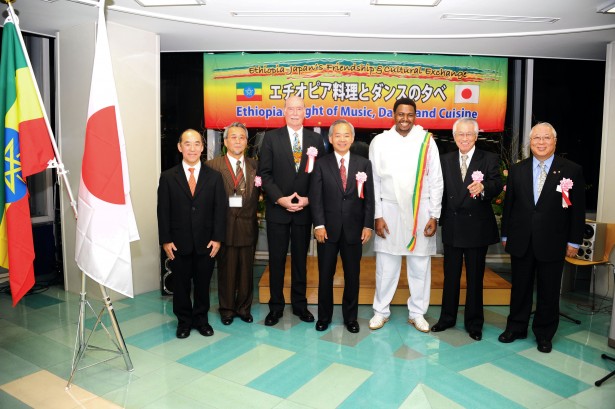 Director General for African Affairs Department H.E Ambassador Yoshifum Okamura on his part said since the establishment of first diplomatic relation in 1933, Ethiopia and Japan have maintained strong relations. The Ambassador said this strong relationship is based on mutual understanding of culture and respect of the people of two countries. He also said Ethiopian Night could be quite success for continuing the strength of our relationship. H.E Ambassador Stuart Comberbach, Ambassador of Zimbabwe and Dean of African Diplomatic Corps made remarks for participants of the event.
On the event, the role of the late Prime Minister Meles Zenawi in transforming the country was explained and one minute of silence was took place.